Thank you so much for reading Take a Chance on Me! Enjoy this special bonus scene.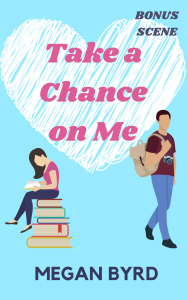 FEBRUARY 15
Tom
THE FIRST FEW notes of Pachelbel's "Canon in D" float on the air from the violinist's strings, signaling that it's time to get things underway. I clamp a hand on Jeff's shoulder and give what I hope is a reassuring squeeze. He looks happy, but also like he's on the verge of being sick. At his bachelor party the other night, he revealed his fear that something catastrophic was going to happen and ruin their big day. I'd tried to reassure him, even showing him that the weather report was showing clear skies and minimal wind here on the North Shore of Hawaii, but was only marginally successful.
Though I suppose I can't totally blame him, knowing about how his and Lisa's relationship started. After all the medical emergencies, it's amazing they're together. A lesser woman would have ditched him after everything she endured. Thankfully, their relationship has been much smoother sailing these last few years.
And now their big day is finally here. I'm so happy they have such gorgeous weather for the beach ceremony. Freddie, Kyle, and I wear white button-down shirts with the sleeves rolled up, tan linen pants with matching vest, and leather sandals. Jeff's got a jacket instead of the vest. Not quite the khaki shorts and colorful Hawaiian shirt Jeff initially promised, but Lisa's choice is classier.
I haven't seen Jeff's older brothers in at least a decade. Probably not since Freddie headed to USC and Kyle to Texas Tech. They're both married with kids, but still have the same juvenile humor I remember, evidenced by the bikini cake they brought to Jeff's bachelor party. At least it wasn't a large fake cake with an actual bikini-clad woman inside.
The officiant stands under a bamboo arch adorned with white gauzy fabric and sprays of white and coral roses. The ocean stretches out behind him, waves lapping gently on the shore. Jeff, Kyle, Freddie, and I are to his left. About two dozen white chairs seat the guests. Madison, Lisa's younger sister, walks up the aisle in a coral knee length dress, her bouquet a combination of white lilies and coral hibiscus flowers. Behind her is Lisa's older sister, Allison. Maggie, Lisa's maid of honor and co-worker at Huntington Beach Memorial Hospital, is the last down the aisle. A small screen behind one section of chairs hides Lisa and her father from view, which seems superfluous since we all took wedding party pictures together earlier. Though, I suppose the drama's for the guests.
Maggie takes her place across from us at the front. The officiant motions for the crowd to stand. I take a peek at Jeff. His mouth is a serious slash on his face, his forehead furrowed. One hand presses against his stomach. I squeeze his shoulder again, then drop my hand, but keep my eyes trained on my best friend.
The second he spots his bride, his shoulders straighten, his forehead smooths, and his lips quirk up into a wobbly smile. Confident that he's going to be fine, I swing my gaze to the aisle. Lisa has her arm hooked through her father's and is smiling widely at Jeff, their eyes locked onto each other. Her white knee-length dress is dotted with crystals that glint from the sun shining down. White sandals adorn her feet and her hair is swept back into a low bun. She looks radiant.
My heart pangs with longing for the day when my own bride walks down the aisle toward me. I only said "I love you" to Rachel for the first time yesterday, but everything just feels so right between us. I wish she was here with me, but understand why she's not. When we talked last night after her Dr. Love event, she made me promise to tell her all about the ceremony and reception. So here I am, trying to remember it all to report back later.
The officiant welcomes everyone and then talks for a bit about Jeff and Lisa's relationship, eliciting a few laughs. He speaks of the responsibilities of marriage and gives a charge to love, even in adversity. It's then time for the vows.
Jeff pulls a piece of paper from his pocket and clears his throat. "Lisa, my love. The beginning of our relationship was unconventional and, for that, I'm sorry. I promise to never bring avocados into our house or give you surfing lessons."
Lisa grins and I stifle a chuckle.
"Every day with you is a joy I don't take for granted. You make me laugh, you challenge me, you make me want to be my best for you. I promise to cherish you, rub your feet after a long day at work, and tell you daily how amazing you are and how much I love you for as long as we both shall live."
Jeff stuffs the paper back in his pants. Lisa reaches over and squeezes Jeff's hand before turning to Maggie, who gives her a slip of paper and a tissue. Lisa carefully dabs under her eyes with the tissue. Jeff holds out his hand to take it, then sticks it in his jacket pocket.
Lisa takes a deep breath, then looks up at her groom. "Jeff, from the moment we met, it has been an adventure. You made me laugh while lying on a hospital bed, though I tried not to show it. The days have been brighter and more action-packed with you. While not every surprise has been great, I wouldn't trade anything about our story. Well, maybe the anaphylaxis part." She grins at her small jab and Jeff nods his agreement. "I'm proud of your dedication to your work and to me. Despite all your travel, I've never felt neglected or forgotten. I promise to support your career and whatever comes after. You will always be my champ. I love you."
I've never thought about what I'd like my wedding to be like, but after listening to Jeff and Lisa's vows, I definitely want to write my own. I like how personal they are. My mind shuffles through my relationship with Rachel in search of things I'd like to mention. An elbow to my arm makes my head snap up.
"Dude. The rings?" Jeff whispers in my ear.
Whoops. Guess I zoned out for a bit. I dig my hand into my pocket and pull them out, handing them to the officiant. After the exchange, the couple holds hands. The officiant pronounces them officially married, and Jeff wraps his arms around his wife, drawing her to him for the kiss.
The audience claps and whistles. When they break apart, the violinist starts up again. Lisa's handed her bouquet and they walk between the chairs, ducking behind the screen, probably for a more intimate kiss. Oh, so THAT'S what it was for. Smart.
I hold out my arm for Maggie to take and we proceed down the aisle. When we reach the screen, I clear my throat to avoid being traumatized by whatever's happening behind it. There's laughter and then Jeff and Lisa emerge, both wearing Lisa's lipstick. Jeff and Lisa's siblings join our little group and there's a round of hugs for the happy couple.
The officiant invites the guests to proceed to the reception at the beach club a mile down the street. I drive them over to the reception area in a cute vintage car I rented for the occasion. I take a scenic route to give all the guests time to arrive before the bride and groom.
I avoid the rear-view mirror. Seeing them all cozied up in the back reminds me of how much I'll be away from Rachel with my job. My current obligations have me in another country at least once a month. Not ideal for growing a strong relationship. If I want things to work with Rachel, I have to figure something out.
When we reach the venue, I duck inside to make sure everyone has arrived, then usher Jeff and Lisa into the foyer. Slipping into the door to the reception, I give the DJ the signal and he announces their arrival while Freddie and Kyle hold the doors open. The crowd cheers and applauds as the couple reaches the center of the dance floor. The first strains of "I Won't Give Up" by Jason Mraz begin, and they sway together while a photographer swoops around them snapping photos. I take one with my cell phone and text it to Rachel. They're married!
Rachel: Woohoo! Lisa looks gorgeous. Send me a pic of you!
I smile, then prop my phone on a nearby table and set the timer. After checking that it's not terrible and includes all of my face and most of my body, I send it. She responds with a melting face emoji.
The couple dance finishes and the DJ announces people are free to visit the food tables. My stomach growls at the thought of kalua pig tacos, but I'll wait for the crowds to die down. I find my seat at the head table and send another text.
Tom: What are you doing right now?
Rachel responds with a photo of her on the couch with a big tub of popcorn in her lap.
Tom: Which movie?
Rachel: When Harry Met Sally
Tom: Not 27 Dresses or Bridesmaids?
Rachel: There's a wedding in this one, too. Plus, it's my favorite movie of all time.
That's something I didn't know about her. I still have so much to learn. But now I have all the time in the world to discover everything Rachel loves. I suppose I should add watch the movie to my list of things to do.
Tom: Never seen it.
Rachel: WHAT?! We'll remedy that when I see you next.
"What are you grinning about?"
Breaking my eyes from my phone, my eyes travel up the sparkly white dress to Lisa's inquiring face. "Just texting with Rachel."
She chuckles. "Yep, that explains it. You're a total goner for her."
There's no point in denying it. "Totally."
"I'm happy for you, but right now, you owe the bride a dance."
She plucks the phone from my hand, sets it on the table, then pulls me to my feet. "Yes, ma'am."
I follow her onto the dance floor and we stop near Jeff, who's dancing with Maggie. My right hand settles lightly on Lisa's waist and my left clasps her right hand. We spin in tune with the music.
"When will you see Rachel again?"
My shoulders slouch forward. "Not until after the Australia portion of the tour."
"Oh, that stinks. I'm sorry."
I shrug. "Well, you and Jeff seemed to handle the grueling schedule just fine."
Lisa purses her lips. "We definitely survived, but I wouldn't recommend it. It's hard spending so much time apart. I'm thrilled for Jeff to pursue his dream, but I can't say I won't be glad when he retires."
I perk up at the last word, my forehead creasing. "Is he thinking about it? He just won the pro tour."
She shakes her head. "No, and I'm not giving him a deadline or anything. Though we've both agreed that we won't start a family until he's done with surfing. I can't imagine being a single parent and working while Jeff's gone for weeks every month."
Her words confirm what I've been thinking. I'm going to have to scale back on work. Especially since I want to have a family. It'd be so hard for everyone to miss large chunks of their lives.
The thought of traveling less doesn't scare me like it used to. Probably because I've found someone worth the sacrifice. I'm confident we'll have our own adventures even without jetting off to other countries. A feeling of peace settles into my gut.
When the song ends, I release Lisa and Jeff steps over, wrapping an arm around my shoulders. "So glad you're here to share this moment with me."
"Me too, man. Congratulations. I'm thrilled for you."
Jeff gives me a conspiratorial wink. "I doubt you're far behind me."
I neither confirm nor deny his assertion. Instead, I change the subject. "You never told me whether you talked Lisa into surfboard wedding favors."
He grins. "See for yourself. They're on all the tables."
He turns away from me, reaching for his wife's hand and pulling her against him for another dance. I smile and wave, leaving them to their love fest. Back at the table, I notice the cellophane wrapped packages surrounding the flower arrangements in the center of the table. Grabbing one, I flatten out the packaging so I can see the contents. Inside are two iced sugar cookies, one a surfboard and the other a doctor's coat. J + L are written on them. I snap a photo and send it to Rachel.
Rachel: Yum! Have you had a taco yet?
I smile, loving that she already knows certain things about me.
Tom: Was just about to. Lisa wanted to dance first.
Rachel: Have one for me and enjoy the rest of the party. I'm heading to bed.
I check the time on my phone, calculating the time difference. I hadn't realized it's nearly midnight on the east coast.
Tom: Will do. Sweet dreams. Love you!
Rachel: Love you too! *kissy emoji*
I slide my phone into my pocket, then head to the section of the room designated for Nani's food. Unsurprisingly, there's a long line, but no amount of time is too long to wait for her tacos. I scroll through my text exchange with Rachel, pausing on a picture of her face. I nod to myself. Yep, some things are definitely worth the wait.
📷 📷 📷 📷 📷
I hope you enjoyed an extra peek into Tom's relationship with Rachel. Want to learn what inspired the book or find out which Supper Club Member you are? Visit the special extras page. If Jeff and Lisa's wedding vows didn't make sense, check out their story for the details.
Continue the series with Tom's sister's love story.