I dislike feeling negative thoughts and emotions. I try to avoid them as much as possible. I usually distance myself from negative emotions instead of allowing myself to process and work through them to find healing and move forward.
The enemy is very successful in convincing me that avoiding difficult or uncomfortable situations, conversations or feelings is better than facing them head on and working through them to find resolution. As a result, when I struggle with something difficult, I often choose to pull away from possible support rather than invite others (including God) to sit with me, offer encouragement and support, and help me through the challenge. I now understand that this is the opposite of what I really need. Distancing myself increases my feelings of loneliness and hopelessness when what I really need is connection and encouragement.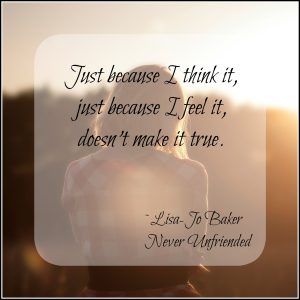 The realization and acknowledgement of my ineffective self-preservation and coping strategies is the first step toward change. When I am feeling lonely or insufficient, then that is when I need to reach out to others, not pull away.
Prayer should always be my first plan of action. I need to bring everything I am thinking and feeling before God. He already knows my hurts, my insecurities, my less-than-perfect thoughts and feelings. Sharing it all with God helps me to really see what is going on in my mind. God helps me to see the lies that I am believing and reveals the truth I may have missed by being focused on the negative thoughts that feel so true at times. Once I achieve some objectivity, I can more clearly recognize truth and develop a more helpful plan of action. Sometimes I need to share my struggle with my husband or a friend, asking for prayer, encouragement, help or accountability. Other times all I really need is time with God to help give me proper perspective.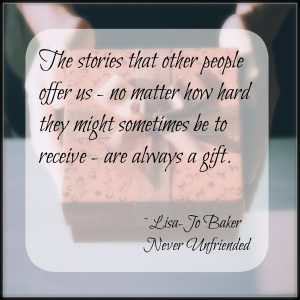 One evening before bed, I was hit with overwhelming feelings of loneliness and disconnect. I struggled a lot last year feeling disconnected from a strong community. I thought I had worked through everything and accepted our current situation, but that night everything flooded back as I was trying to go to sleep.
I allowed the buried feelings to resurface which spiraled quickly into a whirlwind of negative thoughts. The thoughts turned extreme as I considered getting off of all social media to avoid seeing the events and gatherings I was being left out of. I thought surely everyone else was texting and getting together with everyone else except me. Believing these things, I thought about completely cutting myself off from everything and everyone (because, as we all know, nothing helps loneliness more than isolation *rolls eyes*).
When I woke up the next morning I was still struggling with my feelings. Instead of replaying all of the negative thoughts from the night before, I made the choice to pray about it and asked God to speak truth to me about my situation. I knew that I was listening to lies and didn't want to act on incorrect information.
God reminded me that he is loving, faithful and trustworthy. He assured me that he enjoys giving good gifts, so if I am not receiving a particular thing (such as a bunch of social invitations) then most likely it is not in my best interest or not the proper time for it. God helped me to see that if I had more social engagements than I currently have, I would not have the time I need to work on my goals. I have a number of things I want to do by certain deadlines – mostly writing related – and I only have a limited amount of time each week to work in a quiet house (which came to an end when school let out). Perhaps when my current projects are done there will be more invitations. Regardless of what my calendar looks like, I can trust that God is not holding out on me. He loves to lavish good gifts on his children. I should see the time I have been given to work as the gift from him that it is.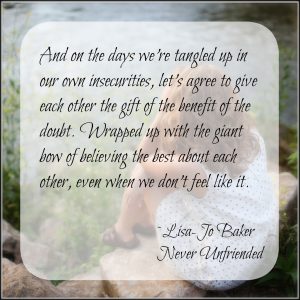 Do you ever get stuck in a negative thought or feeling cycle? How do you get yourself unstuck? What lies does the enemy try to get you to believe? What God truths do you know to help refute the lies when they begin to feel like truth?
****************************
This is the sixth and final post of a series exploring some of the ideas in Never Unfriended: The Secret to Finding and Keeping Lasting Friendships by Lisa-Jo Baker. If you're interested in reading the other posts, please click on a title: The Fear of Missing Out, Finding Our Approval, Guilt-Free Friendship, Celebrating, Mourning and Other Aspects of Friendship and The Comparison Trap.