Welcome to the first official post of our family's Asheville adventure! I was trying to figure out how best to format my posts about our search for community. I have been keeping a journal which I will use for content. I will divide it up into three different aspects: neighborhood, church, and friends. These seem like three distinct areas regarding community that may (hopefully) or may not overlap as our time in Asheville lengthens. "Friends" is kind of a vague and inaccurate title but sounds better than "other." I'm defining it as our activities and explorations of the area as well as work, school, and the gym (since that's where I consistently go on weekdays). The format may change as we go, but I think it's a good start.
This week I'll talk about our neighborhood. It's actually a semi-circle street of seventeen houses. Quite different from our 900+ house neighborhood in Acworth with a pool, tennis courts, multiple playgrounds, and community events. I doubt there are block parties here, but we'll see. I'm brainstorming potential community activities that could be started if there aren't already some. Below are my first month's entries about our neighborhood. (I'll be using initials and numbers for people identification to protect their privacy as much as possible.)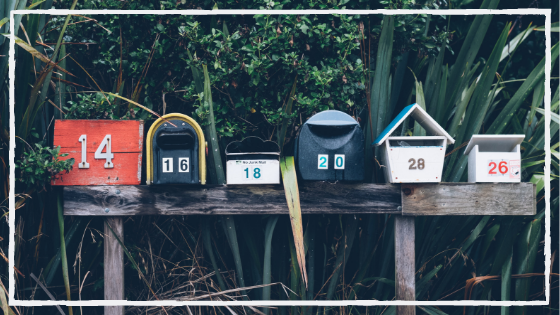 07-26-19
We closed on our house yesterday and moved in the stuff that was in our cars. We didn't see any neighbors.
08-03-19
I have met a couple of people on our street. On our way to celebrate our anniversary (on the 27th, though our anniversary was the 29th) Adam stopped the car and said hi to the man next door. I didn't quite catch his name. Adam met some other neighbors while I was gone (to Statesville to pick up the kids and bring them back when the moving truck came on the 30th). S1 came over from the other side of our house the day our stuff came. I met C1, our mail carrier when she delivered a package. L1 on our street somewhere has two little dachshunds and a 13 yo son.
08-09-19
I was doing a little weeding last night and met K1 and B1 who live across and down the street a bit. They have grandkids about my kids' ages. They were pretty friendly. Everyone seemed to know the previous owners of our house. When I feel a little more settled I'll have to take my own laps of the street and try to meet others.
08-13-19
We were in Atlanta this past weekend and went to our church on Sunday. The message was about community and its purpose in being known by others. Of course, that's what we want. During the message I had a couple of thoughts. I've been joking that because our new neighborhood seems to be mainly retirees, we'd have the same schedule of being available during the day. It made me think about meeting neighbors and seeing if there's interest in starting a daytime book club on our street. Of course, I have to meet people first. I also thought about doing a prayer walk around the neighborhood, praying for each house and looking for opportunities to meet neighbors. I also thought about making cookies to have an excuse to say hi. We know someone on our street is gluten-free so I thought we'd make two kinds. I bought ingredients to do so and have a recipe so we're all set.
Yesterday Kaitlyn and I made banana bread. I realized we didn't have baking soda so I decided to go ask a neighbor. It wasn't quite nine so I thought it might be too early to knock on some doors. I saw a garage open and chose that house. I had met the couple once. The woman recognized me and said my name. I said "C1?" and she corrected me. "K1." I realized our mail carrier is C1. I'm sure we're probably the youngest people on the street which makes us easy to recognize. K1 was willing to give me some baking soda. She said her 3yo grandson was coming over later and they were also going to make banana bread. Pretty fun. Next time I am going to get contact info. I should remember to carry my phone and (business) cards.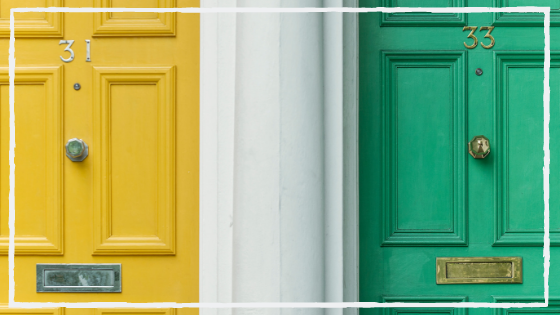 08-20-19
I met a new neighbor tonight, K2. She's apparently single with grown kids but maybe not grandkids yet. Adam put some chairs on the front porch and I am currently out here hoping some neighbors might be out to walk their dogs. I chatted a bit with S1 this afternoon on the way to and from the bus stop. I learned she has four cats, likes gardening, and apparently sews as she offered to make pillows for the kids' beds. K2 has a dog and lived in England among other places.
08-22-19
I met our across the street neighbor S2 and her dog (whom the kids were calling Oreo because her head and tail are black and her middle is white with black spots) yesterday while the kids were out riding bikes. She has a daughter who's getting ready to start grad school. She was nice like everyone else has been. I had a thought of trying to get pictures of neighbors' pets and turn them into note cards. We'll see if that happens.
*****
To sum up, I've met six neighbors (seven if you include the gentleman whose name I didn't catch) and one mail carrier. I have a plethora of ideas for getting to know the neighbors better but have not yet executed a single one.
Do you have any ideas to help us get to know our neighbors? Do you have any positive memories of people reaching out to you in creative ways when you were new to a neighborhood? I'm quite open to suggestions! On the flip side, any negative experiences you wouldn't recommend we attempt? Share your stories!