This Sunday Adam and I will celebrate our 12th wedding anniversary! Twelve years of life in Atlanta. I thought it would be fun to share some of the highlights of our marriage experience.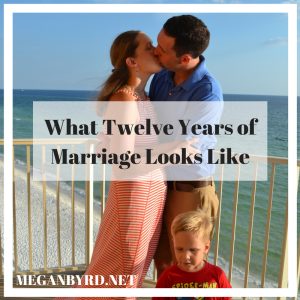 Our married life by the numbers:
1 cat
2 kids
3 addresses
4 trips out of the country
1 Thanksgiving in Las Vegas
2 Peachtree Road Races (3 for Adam)
4 company cars
6 (of 24) Thanksgivings or Christmases at our house
9 college football games
1 ALTA City Championship (2 for Adam)
19 bag tags (between us)
1 helicopter ride over Sedona
2 Christmas fun runs in Boise
4 nieces and nephews (technically one was born two months before our wedding)
8 years of parenthood
9 trips to the beach
14 plane trips to Boise
Numerous trips to North Carolina
12 years of love, laughter, and adventure with many more to come!
If you made your own list of married-life events, what would be some of your highlights?