What does it mean to trust God? This is a big question. I wrote down the thoughts that jumped out of my brain in order to evaluate and process what I think this means and determine where I struggle the most.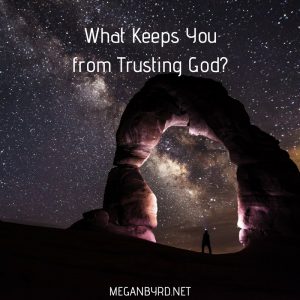 Trusting God means:
Surrendering. Giving up worry, anxiety, and trying to control everything. Looking for his blessing in non-ideal circumstances. Laying down my agenda, ceasing striving, not seeking my identity in accomplishments or success. Being willing to fail or to look foolish. Believing him when he says I am loved regardless of my works (good and bad). Believing that he has a purpose and plans for me and that they're good even if they don't look like much to the world.
I definitely struggle with all of these but one I know is a constant battle is willingness to look foolish. It is a fear of mine that keeps me from sharing the truth I know and my experiences with God with those who are not believers. I fear that I will not have intelligent and persuasive answers to give and will be thought of as feeble-minded. I know intellectually that I do not have to defend God. He is more than capable of proving himself how and when and to whom he desires. My purpose is to honor him and give him glory. Keeping the things he's done for me and the truths he's shown me to myself does neither of these.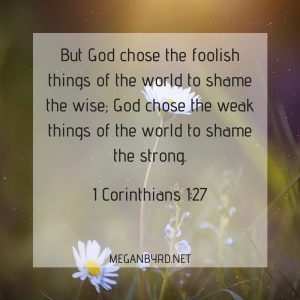 I need to be confident in my worth and standing as God's beloved and not be so swayed by the thoughts and opinions of other people. For so long I have wanted to be thought of positively by everyone. Of course, that's impossible (even I roll my eyes at that thought) but it doesn't keep me from trying. I know that God uses foolish things to confound the wise. In my weakness, his strength can shine through and his glory can be revealed.
Why don't I trust him to do this in the imperfect offerings of my experiences with him? Perhaps reminding myself of God's presence and provision promised through his word can give me the courage to let go of my people pleasing and step out in faith that God will uphold and sustain me as I trust in and follow him.
Have I not commanded you? Be strong and courageous. Do not be afraid; do not be discouraged, for the Lord your God will be with you wherever you go. Joshua 1:9

Those who know your name trust in you, for you, Lord, have never forsaken those who seek you. Psalm 9:10

Many are saying of me, "God will not deliver him." But you, Lord, are a shield around me, my glory, the One who lifts my head high. I call out to the Lord, and he hears me from his holy mountain. I lie down and sleep; I awake again, because the Lord sustains me. Psalm 3:2-5

What keeps you from fully trusting God? Is it fear, unbelief, an incorrect belief, or something else?