I set a few goals at the beginning of the year and know that accountability helps keep me on track so below are my stats for the third quarter of the year. You can also read about the first quarter and second quarter successes and failures.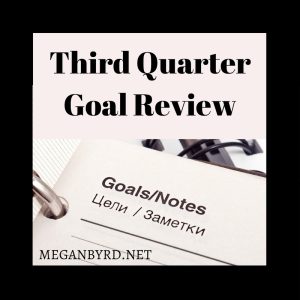 2018 Goals
1. Blog once per week.
I have continued to keep the weekly streak alive. I published 7 posts in July, 8 in August, and 6 in September. It has been a fun challenge. Below are links to a few of my favorites from the past quarter.
What Twelve Years of Marriage Looks Like
While the Kids Are Away, Mom Will…?
2. One date night per month.
We didn't manage to get a date night in during July, despite the fact that our anniversary (12!) occurred during that time. I did have a date night scheduled, but a last-minute meeting moved our date back a week and into August.
When we did make it out kid-free, we had a lovely time. We had oysters and seafood at Hugo's Oyster Bar in Roswell. We wandered around the downtown area and saw some beautiful paintings in the various galleries. We finished up our evening with some super-rich chocolate cake (because you should always eat cake when celebrating your anniversary unless you had donuts or some other confection at your wedding in which case have some of that) at the Peachtree Diner. Also in August, we had a sushi lunch date which was delicious and fun and a breakfast date to a new restaurant (hurray for the kids being in school!).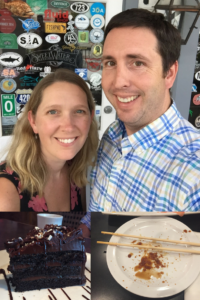 In September we went to see Ben Harper and Charlie Musselwhite perform at the Tabernacle. For not knowing any of their songs, I had a great time.  Ben puts on a good show!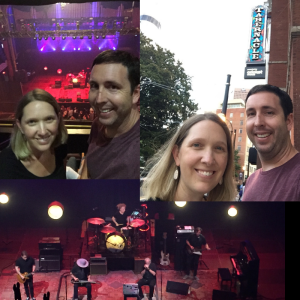 3. One-on-one time with each kid once per quarter.
I decided that Kaitlyn's first dance class would be a perfect opportunity for Jackson and I have to have some one-on-one time. I packed a bag of activities. After we dropped her off, we drove to McDonald's. J ordered a McFlurry. We finished a book (Junie B. Jones), played Go Fish (Jackson won), and completed a puzzle. The time passed quickly. I had fun and hope he did as well.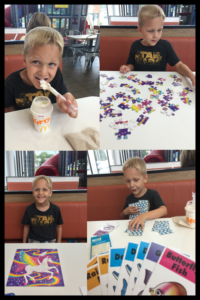 I was worried that I wouldn't have any one-on-one time with Kaitlyn this quarter, but an opportunity presented itself near the end of September. We read some out of the book we've been going through together, played a couple games of Go Fish, and a game of war while talking about life. It was an enjoyable evening with her.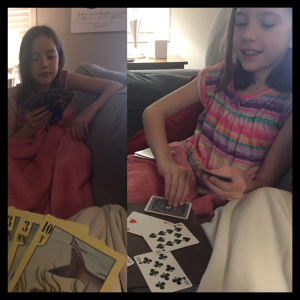 Book Goals
Because I love books so much, I have additional, separate goals for this category.
1. Read 100 books in 2018.
The past two years I read more books than I had in previous years, 72 and 86 respectively. I thought 100 this year would be a stretch, especially since I am trying to spend more time writing, but apparently having older kids is a big help in gaining time for reading. And I officially hit my goal of 100 books in September! Of course, this doesn't mean I'm finished reading for the year. I'm interested to see what my final number will be for 2018!
2. Read at least one book each month by a non-white author.
July: Exit West, Hunger, Bad Feminist
August: The Wedding Date, The Color Purple, Scratch (some essays in the book), The Souls of Black Folk
September: Rich People Problems
How are you doing on your goals this year? Any suggestions for fun one-on-one activities with the kids?