I have always been a sucker for personality tests. It could be my bent toward psychology and a better understanding of people. It could just be my perfectionist nature wanting to know all about myself so that I can become even better at perfectionism.
I thought the Enneagram was just going to be another test that showed me my natural characteristics and the strengths and weaknesses associated with them. It did do that, but it did more. It dug into my history and showed me that my personality isn't something I can really change to get rid of the parts I don't particularly care for. It is part of my inherent nature. It encouraged me to believe that I was created with a particular bent on purpose and that my personality can be beneficial if I fully understand it and embrace it.
The Enneagram really helped me to accept my personality. I realized that not everyone thinks the way I do. Not everyone has that constant critical inner voice telling them they have to do better and be better. I learned so much about myself, what is normal for my personality, and that other personality types don't have the same challenges and experiences I do.
Feeling Like a Failure
Revisiting a problem feels like failure to a perfectionist. We expect ourselves to get everything right the first time. When we don't, we are quite hard on ourselves. We have an inner critic who loves to jump all over us, telling us we're stupid or a screw-up. Hearing that the inner-critic is normal for 1s (the Enneagram types are given numbers 1-9) was life-giving to me.
Learning that the things I do or think are natural tendencies of my personality type helps me to be able to give more grace to myself. Knowing the positives and negatives of perfectionism can help me to self-regulate and make allowances for my shortcomings.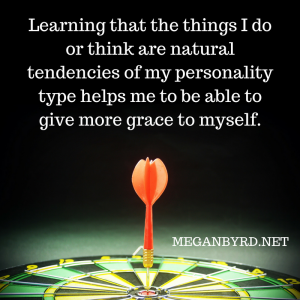 Accepting my perfectionist personality – the good and the bad – is an ongoing challenge. Flaws are what we are trying to avoid, an obviously futile attempt. But we try anyway and fail, and then beat ourselves up. Giving ourselves grace and accepting that we will never be perfect can help us mellow.
Learning that change is a spiral rather than a straight line has been extremely helpful because I am now aware that there will most likely be a next time in experiencing particular struggles. This knowledge enables me to feel more ready for it because it won't be surprising. I can think back to my previous visits with a particular issue, analyze what worked and what didn't, and hopefully navigate it a little better this time.
Three Benefits of Understanding Your Personality
Reading about and studying my personality through the Enneagram was very educational and encouraging. I am anxious to continue to read more about it, especially how it relates in terms of my faith and connection to God. The Sacred Enneagram is on my to-read list. In the meantime, I will be content with the things I have learned thus far in this journey. Below are three benefits I've received.
I realize that I am not the only one who acts and reacts the way I do. Knowing it's not just me allows me to have more grace and also to seek advice from others who understand where I'm coming from.
I know my weaknesses and tendencies and can work on strengthening them or prepare to speak truth to myself when I find myself in situations that magnify my weaknesses.
I can remind myself that my flaws are not fatal anomalies but normal human characteristics.
Are you familiar with the Enneagram? Has learning about it benefited you in any way?