***I wanted to share my Italy trip with those who are interested. Feel free to skip this post if it does not interest you, especially because it's going to be long. Warning: pictures may provoke a desire to visit Italy.***
In July, ten of us headed off to Italy to celebrate my father-in-law's retirement. We had a fast, furious, fun, and festive time exploring the sights and enjoying the local cuisine and libations. It's impossible to share it all in a blog post (especially the pictures), but I'm hoping to hit the highlights.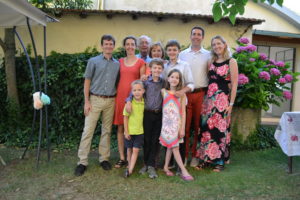 July 6: We got up at 6, ate breakfast, and went to the airport. Our flight to Chicago left on time. We were in the last row of a 70 passenger plane and could smell the bathroom behind us when the door was open. A flight attendant was the fifth person in our row on take off and landing, pulling a seat from behind mine and sitting right in front of the bathroom door.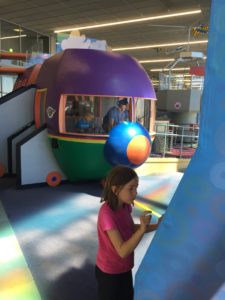 We met Adam's parents for lunch at a food court before they left on their plane to Rome. The kids played in the kid area at the airport for a while before we headed to our gate. We rode on a 787 Dreamliner which was pretty fancy. The kids watched Moana, picked at the dinner, and then got ready for bed. There was some shoving for sleeping space so I ended up moving to the middle seat and they both laid their heads in my lap. I tried to get sleep but there were too many factors that thwarted my attempts – lack of comfort because I had nowhere for my arms to rest comfortably, the kids moving while they slept, the person behind me bumping my seat, arguing siblings (not ours), toilets flushing, etc. I nodded off a time or two but never for long. We were served breakfast in the morning. The kids didn't care for much of the plane food.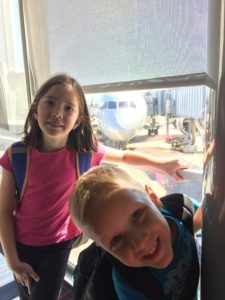 July 7: We landed in Rome and breezed through passport and customs. We found Adam's parents at the car rental. There was a snag in the reservation but it got worked out. In the meantime, Rebecca and crew arrived. We headed toward our villa, stopping for lunch at the Hotel Aquila (eagle) for spaghetti and bread that were both meh. Maybe I was really tired.
We arrived in Pian di Sco' mid-afternoon and got set up in our home for the week, La Capitata. Once bedrooms were selected, the kids went swimming and I went out to take pictures and look around. The pool was cold. We rested for a while before heading down to town to pick up some groceries and eat dinner at Andrea's. The pizza was pretty tasty. Thin crust, fresh ingredients. I tried the wine and it was okay. After returning home, we wound down and had an early bedtime. I slept until my alarm at 8.
July 8: A bus came by at 9 to pick us up for our day in Siena and San Gimignano. Lucia is our guide. She's also a sommelier. We had bread, Nutella, cheese, and melon for breakfast. We toured Siena in the morning. We picked up a second guide for the town – Sylvia. We walked through some squares (piazzas) on our way to il Duomo. We saw some walled parts of the city and a statue for St. Catherine of Siena. The big church was dedicated to the Virgin Mary. The outside was white and green marble (though it looks black). We went into a library inside the Duomo. There are a lot of tile pictures on the floor and some beautiful stained glass windows. The ceiling had a bunch of stars painted on it which represents the Virgin Mary. On the back side of the church was the Baptistry dedicated to John the Baptist.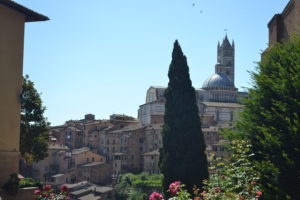 In the Piazza del Campo there was a track that they use to run horse races twice a year, in July and August. Ten of the nineteen districts are represented by horses. The winning district gets to fly its flag until the next race. Districts mentioned – dragon, caterpillar, owl, swan. We had lunch at Il Bandierino on the Piazza which was tasty. We had a delicious antipasto of cheese and thinly sliced meats. Then a thick spaghetti with meat sauce or cheese sauce. Third, a thick veal steak with delicious potatoes. There was a fruit and ice cream dessert that was tasty and everyone shared because we were so full. Some people had caffe also. We had wine with lunch, a red Chianti which was drinkable, smoother than I'm used to back home.
Now we're on our way to San Gimignano. The kids have held up well. I asked J his favorite part of the tour and he said the chocolate fountains we saw in a chocolate store. Of course. Kaitlyn's favorite was the belltower with the clock in the Piazza del Campo. The wine in the region has a picture of a black rooster on it. We learned Italian roosters say "chi chirri chi" (sounds like "key keyree key").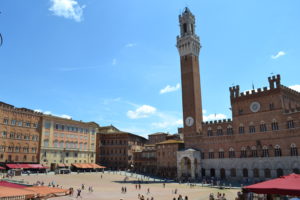 San Gimignano is a medieval, walled city where we wandered around the streets. There was a beautiful view of the countryside. The city had a torture museum and a Leonardo da Vinci museum of war, neither of which we went in. We passed by an old jail. There was a cistern/well in the center of a square (Piazza della Cisterna). We found a world champion gelateria but the line was too long so we went to one down the street and it was amazing! I had half chocolate, half stracciatella (chocolate chip). Adam had half strawberry, half limoncello which was very good. Jackson's favorite things were the turrets that had been cut in half after the town lost a battle and the torture museum (outside). Kaitlyn's favorite was a building in the middle of town (maybe city hall?).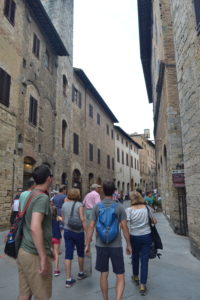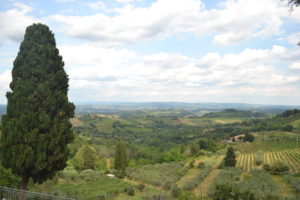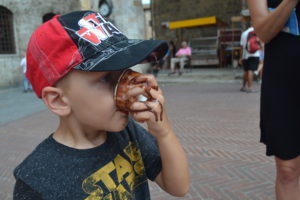 After being dropped off at home, we got our swimsuits on and enjoyed the nice evening in and around the pool. At 8 we got the kids cleaned up, suppered, and off to bed. The adults sat outside and enjoyed wine with the sunset. We all went in around 10.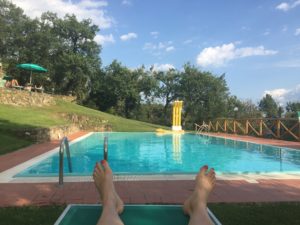 July 9: We were up at 7 and out at 8 on our way to Assisi in Umbria. Jackson woke up with a cough and stuffy nose that seemed to improve a bit with some breakfast. Of course, all of the congestion caused him to throw up while we were in the car. Quick-thinking Grammy caught it in Jackson's hat.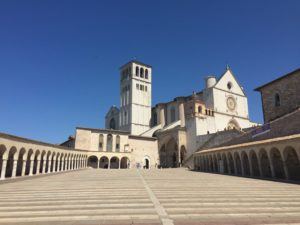 We made it to Assisi where we walked up to the Basilica di St. Francesco, of course. We went in the lower Basilica first and looked at beautiful walls and ceilings. Then we went down below to see the tomb of St Francis and some of his friends. Third, we headed up to the upper Basilica and looked at the frescos by Giotto. We then walked uphill for a good fifteen minutes to get to Rocca Maggiore, a fortress built in the 12th century, destroyed and rebuilt a few hundred years later. We took a spiral staircase to the top of the tower for a spectacular view of Assisi. We stopped for lunch on the way down and had Torta al Testo, a traditional Assisi food which was essentially a panini, mine contained salami, spinach, and mozzarella. Very yummy!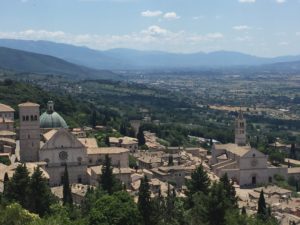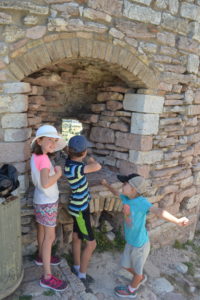 We then went to Lago Trasimeno before heading back to the house. Kaitlyn, Timothy, and Jackson slept on the ride over in the back seat. We walked along the lake a bit until we reached a Gelateria and stopped for gelato. Then we walked back to the cars and headed back to the villa.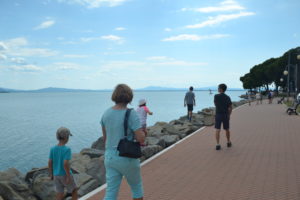 Kaitlyn's favorite part of the day was going into the castle (fortress) and getting gelato.
Jackson's favorite part was the fortress' secret hideout/passageway. Timothy's favorite part was the fortress and the top of the tower.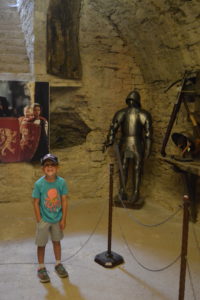 We had a delicious three-course meal at our villa last night. Antipasti – melon and prosciutto, bruschetta, pate and other crostini, caprese salad; pasta pomodoro and ravioli with sage and a white sauce, chicken saltimbocca with salad. Then a dessert of ice cream and fresh fruit. I also had two glasses of the wine made from grapes grown on the property.
July 10: Up and out around 9:15 for our day in Florence. A tour of the city to see various piazzas, the cathedral of Santa Maria with Brunischelli 's famous dome and the Baptistry. The outside of the church was very ornate. Our guide said the inside was fairly plain. We stopped into a gallery that makes pictures from various stones, slicing them thin and using templates to cut them just so and placing them together, gluing them from the back. Very fascinating. Then to the Museo Accademia to see some Stradivarius violins, the first upright piano, paintings, and finally Michelangelo's David statue. It is ginormous! Over 5 meters tall and we could walk all the way around it. There were four half-carved statues Michelangelo had started called "prisoners" because they hadn't escaped the marble.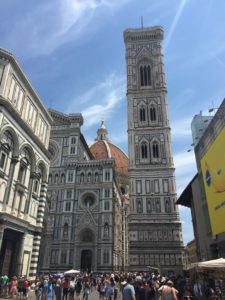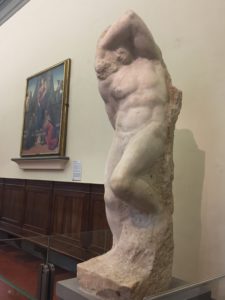 We walked past the Uffizi museum toward the Arno river to have a view of the Ponte Vecchio before walking across it. Halfway across there is a fence with locks on it placed there by couples. Luke managed to get one unlocked but put it back. We had lunch at Antico Fattori, a restaurant that has been around I think since 1865. I had pasta e fagiole soup. Also the house wine.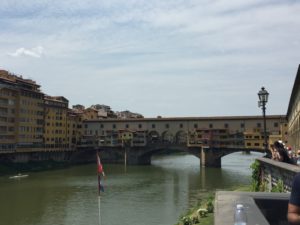 We wandered a bit after lunch. We returned to Piazza Della Republica which used to hold the original David statue but now has a replica. The original "Rape of the Sabine Women" is out there as well and is supposed to be switched with the replica in the Accademia at some point. There were other statues including a bronze of Perseus' beheading of Medusa. Adam treated everyone to gelato before our bus picked us up at the national library. Kaitlyn's favorite parts were the rock art and the David. Jackson's favorite parts were eating gelato and seeing all of the pretty jewelry on Ponte Vecchio. (The bridge was full of butcher shops until the 1500s when the Duke who used the bridge to travel for work to home got tired of the smell of rotting meat and traded the butchers for jewelers.) I carried Jackson a lot today. All of our touring is catching up to him and Kaitlyn. Hopefully tomorrow in Pisa they'll enjoy themselves as it will be something they've seen pictures of. We headed home, swam, cleaned up, and went back to Restaurante Pizzeria Andrea for dinner.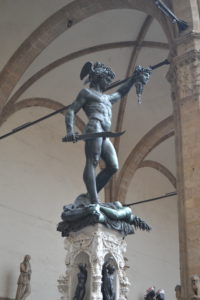 July 11: We were up and out by 8am. We drove to Pisa. We could see the tower and church dome before we crossed the Arno River to head into the city. We purchased tickets to go into the tower and then had two hours to kill. We toured the inside of the church, stood in line for the bathroom (at least twenty minutes for the ladies' room), wandered all the way around the church, Baptistry, and tower. Then we got some gelato (oreo and crema for me). We hung out in the shade some until it was time to go up. We sat in the bottom until all 40ish of us were there, then they gave us a little info and sent us up. It took about 3 1/2 minutes to get to the top. There was a second smaller stair set to go up to the level with the bells. It was a very cool view of the city. You could tell going around the staircase when you were on the lower or upper sides of the tower. The marble stairs were worn in the middle from so much traversing and the walls had a thick dark line from all of the hands touching it. I didn't realize that Galileo had dropped things off of the tower for gravity research. Apparently, the tower has corrected its tilt even more since they fixed the ground to stabilize it.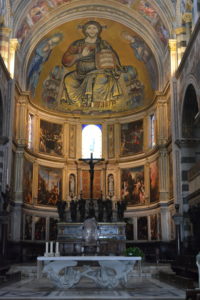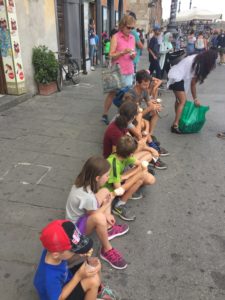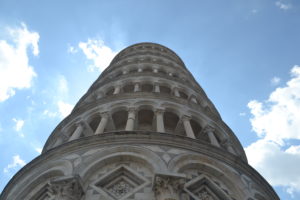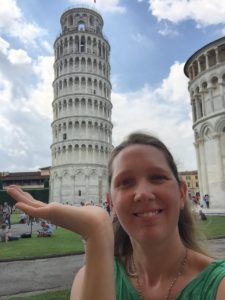 We then drove over to Lucca, a city with a completely intact wall around the city. Finding parking was a challenge but it gave us a good view of a large part of the wall. We walked on top to get closer to town to find lunch. We ate at "Pizzeria in Santa Maria." I had a foccacia sandwich with prosciutto, mozzarella, lettuce, and tomato. It was gigantic and I ate only half. After lunch, we rented bikes and a bicycle cart and rode on top of the wall for a while. There's a large path with trees on either side up on top. It was mostly shaded with a pleasant breeze. A lovely time. Jackson's favorite part was seeing the tower of Pisa and biking on Lucca's city wall. Kaitlyn's favorite part was riding in the six-person bicycle cart on top of Lucca's city wall and going down the hill. Luke's favorite part was biking on top of Lucca's city wall.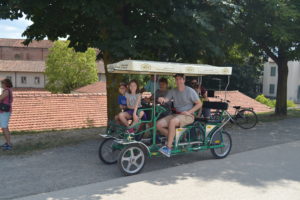 When we arrived home we had about an hour and a half until dinner. Our antipasti was pate, mozzarella crostini, prosciutto and mozzarella on flatbread, ricotta cheese, and a delicious fried zucchini flower. Pasta was long noodles with tomatoes and mushrooms. Meat was pork, sausage, and tenderloin wrapped with phyllo dough and bacon plus salad and potatoes. Dessert was a pudding with chocolate sauce on top. I had two glasses of wine.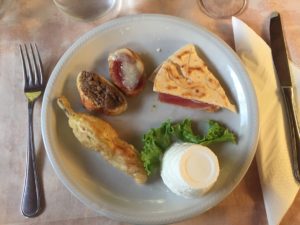 July 12: We were up and ready to go at 7:30 which was good because the bus showed up then. We drove a long way over to La Spezia where we got on a train up to Monterossa, the northernmost town of Cinque Terre. We wandered around Monterossa, visited the church, and touched the sea. The kids waded in. The Arthurs decided to hike to the next town, Vernazza.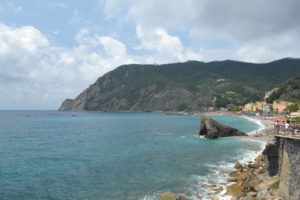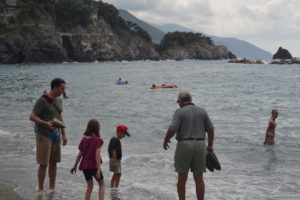 The rest of us took the train and wandered through town to the water. We walked along the jetty and took pictures. Jackson saw fish in the water. We did a little shop browsing until we saw the Arthurs finished with their journey. We had a few minutes before lunch so Adam and I hiked up a bunch of stairs to Castello Doria up at the edge of the cliff. Beautiful view of the coast both ways. It started sprinkling while we were up at the top and it sprinkled all the way down until we arrived at our lunch restaurant on the Square, Taverna del Capitano.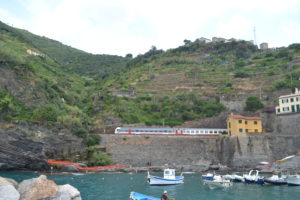 We had penne with shrimp and pesto pasta for our first course, white fish with potatoes, olives, and tomatoes for our meat, and tiramisu as our dessert. I had a glass of white house wine with lunch. Our plan had been to stop next at Manarola but our train was late and then the line to exit the station was at a standstill so we got back on the train and headed back to La Spezia. The kids were thrilled because it was a train with an upper and lower deck in parts and they got to sit up top. We stopped for the bathroom (a tiny room in a courtyard) and gelato (chocolate and dark chocolate) before walking to catch our bus. Jackson's favorite part was putting his feet in the water and seeing the waves. Kaitlyn's favorite part was going in the water and climbing on the rocks (pink rocks!). Lucia was our guide again today. I asked her what sunflower was in Italian: il girasole (sounds like "jeer-a-soul-ay"). She liked the Spanish pronunciation (girasol, sounds like "here-a-soul") I shared with her. We swam after returning home and ate leftovers for dinner.
July 13: We had a leisurely morning. Adam and I walked through the olive tree terraces behind the house, found the vineyard and some pigeon-chickens. We walked the rest of the way up our street until the paved road ended. Around 10:30 we drove to the monastery at Vallombrosa. We went in the church and looked around and walked some of the grounds. It was in a forest and I felt like I was in the Pacific Northwest.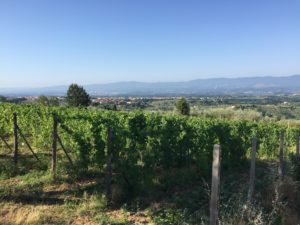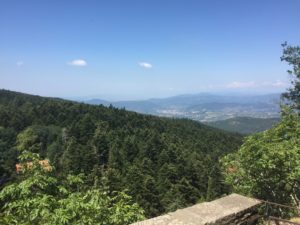 Lunch was at "Ristorante da Lucia." I had some flat noodle pasta with wild boar sauce. Jackson downed his French fries. We were back home during the "quiet hours" for the first time all week. We rested for a bit and then went out to the pool. Poor Kaitlyn got stung by a bee on the bottom of her foot. Jackson's favorite part of today was the playground at the monastery and the spiderweb swing. Kaitlyn's favorite part was the playground and the zip line. Dinner at the villa was delicious as usual.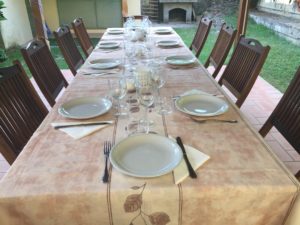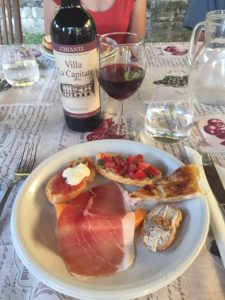 July 14: We got up and out early this morning. We had to drop the rental cars off near the Florence airport. It took awhile. Then we hailed cabs to the train station. It turns out there are two train stations in Florence and ours was different from the Arthurs' so we parted ways in cabs. We grabbed a quick breakfast as we waited for our train's track to appear on the board. We loaded up on our car once the train arrived and we were off on a three hour jaunt to Naples.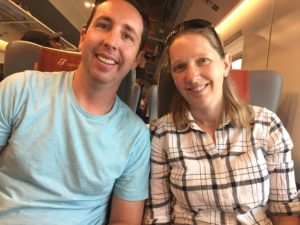 When we arrived we hiked to our hotel. It was a hot, sweaty trek and we decided future trips should be by shuttle or taxi. We wandered around and found a not great (but at least open) lunch place. We asked reception where we should tour around Naples. We took a taxi to Piazza del Plebiscito and then walked along the water down to Castel dell'Ovo and on to a park. We stopped for gelato, saw a Disney Cruise ship, found Mount Vesuvius, and climbed to the top of the castle – a great view! On our way back we stopped at a bar by the boats and tried a limoncello (yuck) and ate some fruit. We then grabbed a taxi back to the hotel. We saw about half a dozen brides having pictures taken around Naples. Jackson's favorite part was going in the castle and riding on the train. Kaitlyn's favorite part was riding on the train.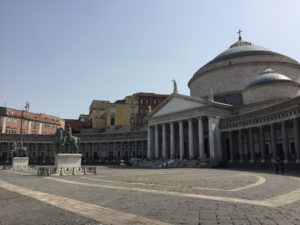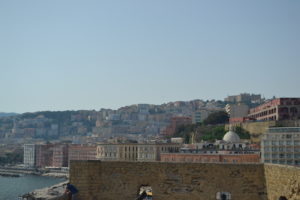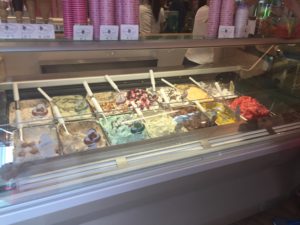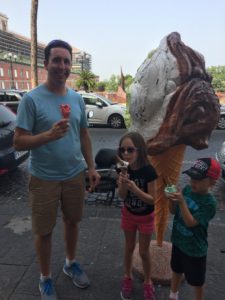 July 15: We got up, ate breakfast at the hotel (chocolate croissants!), took the shuttle bus to the train station and purchased tickets to the Pompeii station. It took forever and was unpleasant because it was the metro, made fifteen or more stops before ours, and had weed smoking youth being loud and troublesome on the train. We finally made it and purchased tour tickets. We then purchased entrance tickets (we should have skipped the tour). We followed the guide for about an hour and then broke away to visit on our own. The guide showed us the small performance theater, some murals, bath houses, thermal baths, fast food type restaurants, and rich people houses. We found the cast bodies and anfiteatro. I didn't realize how big Pompeii was. It existed in 800 BC but eventually came under Roman reign. It was super hot outside and practically everything is uncovered.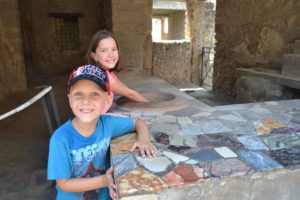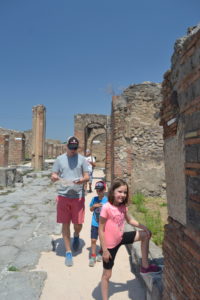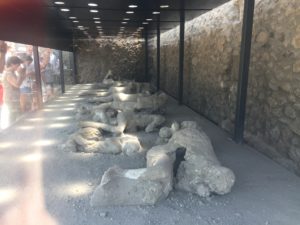 When we exited, we grabbed a quick lunch and then went to see about a bus to Vesuvius. At first they said the next one was in an hour but then gave us entrance onto one leaving right away. It was about forty minutes to the top. They gave us an hour and a half to look around and it took almost the entire time to walk all the way up and back. Adam asked after we had come back down and it was 3 km one way. It was soooo hot and steep. Eventually, there was a breeze up top that helped a little bit. Coming back down was easier because it was less strenuous. We couldn't figure out where the city of Pompeii was from the top of the volcano.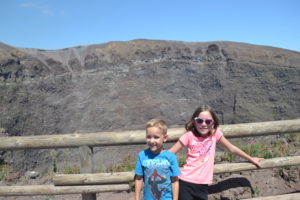 When we got back on the bus we learned that it was going back to Naples so we took it all the way back to town near the water so we could eat dinner. We found one that looked good, "Hache" I think. We all had pizza for dinner. We ordered a pizza with just cheese that Jackson split with Kaitlyn. I Capreseaprese pizza. Adam had one with tomato sauce made from tomatoes grown on Mt. Vesuvius. I saw a ton of tomato gardens on our drive to the top. We watched the first half of the world cup finals while we ate. It was neat seeing so many people gathered around TVs in restaurants and outside stores watching together. We walked to gelato after and then caught a cab home.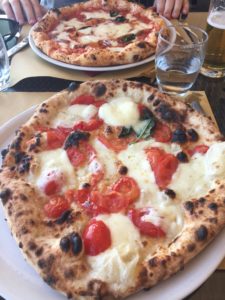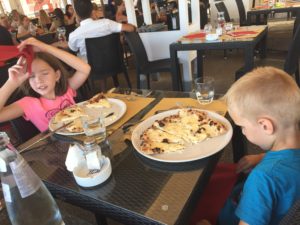 Kaitlyn's favorite part was reaching the top of Mt. Vesuvius. Jackson's favorite part was going down the volcano and talking to daddy about bad guys. Tomorrow we are off to Rome for our last two days. I am so thankful for how our bus ride home worked out. So much better than this morning!
July 17: We took the free hotel shuttle to the train station. Our train was delayed about ten minutes so it took a long time for our track number to show up. It was about an hour to Rome. We took a taxi from the airport to our hotel, Maison Trevi (we learned from our Naples experience).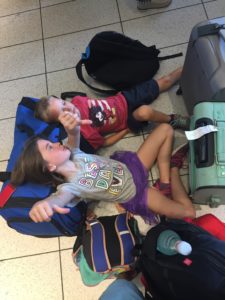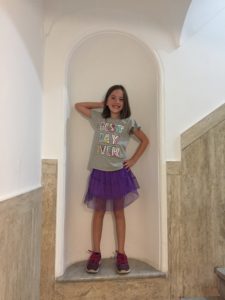 The manager gave us a map and a suggested itinerary for seeing Rome on foot. This was our path: Trevi fountain but cleaning it so no water, Pantheon (gigantic, now a church, and there was a children's choir singing inside), Piazza Navona (three fountains), Campo di Fiori for lunch – free champagne and fanta. I ate gnocchi.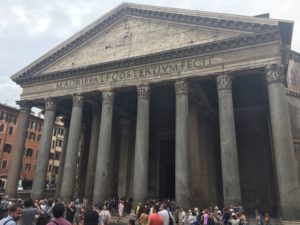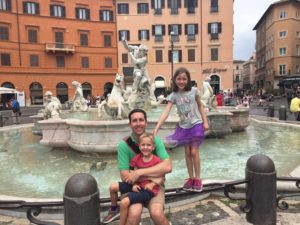 Then we headed toward the Coliseum, passing the Area Sacra, Piazza Venezia, Monumento a Vittorio Emanuele II (impressive), Foro Traiano, a statue of Julius Caesar, and a bunch of street performers (invisible men, floating genies). We toured the Coliseum and part of the Roman forum before heading back for gelato.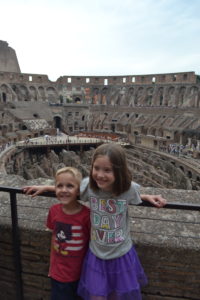 We passed the Trevi fountain, which was working again, threw a coin in, and then found tasty gelato. We came back to our room for a rest. Then we headed out in search of souvenirs. We walked a hill to the top of the Spanish Steps and then walked down them to the fancy stores. While window shopping I found 5€ on the sidewalk. The kids found souvenirs. We got sprinkled on and then saw a rainbow. We wandered around until we found someplace to eat dinner. I had spaghetti with meatballs. We came back and got ready for bed. We walked over 21,000 steps.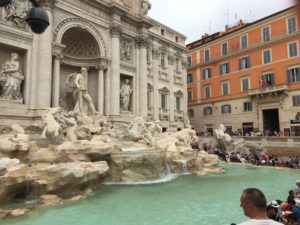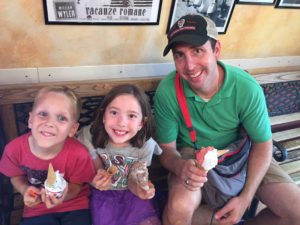 Jackson's favorite parts were gelato (of course), flipping a coin over his back into the Trevi fountain, and seeing the magic genie. Kaitlyn's favorite parts were visiting the Coliseum where the gladiators fought and the people doing tricks on the street.
July 18: Today we took the metro over toward Vatican City. We stopped at a McDonald's for breakfast. I had a chocolate croissant with fresh squeezed orange juice and the kids had doughnuts. Adam had a sausage McMuffin and caffe. Then we wandered to St. Peter's square and got in line to tour the Basilica. It took us about twenty minutes to get in. We walked around for awhile, looking at all of the pope tombs, paintings, and statues. When we exited, we saw some Swiss guards. Then we bought a postcard and mailed it while in Vatican City (which arrived at our house on July 28th). The line to get into the Basilica was now stretched way across the plazza. It looked like it was 2+ hours wait to get in (we later learned you can also get in at the end of your Vatican museum tour). When we left St. Peter's, we wandered in some shops and found an ornament (my trip tradition).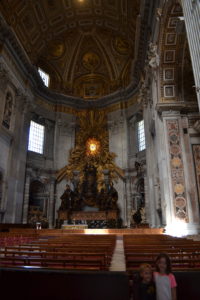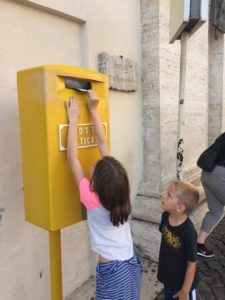 We walked to the river (Fiume Tevere) and Castel Sant Angelo. We headed back toward the museum entrance, stopping for sandwiches. Our tour guide talked forever and we were quite bored for most of the tour. And hot. Wearing pants on a bright sunny day in July in a city is no fun. We saw some cool things before going into the Sistine Chapel. It was quite crowded but neat to look at (though staring straight up hurts your neck after a while). After we left, it took us at least another 20 minutes to actually get out of the museum (it's huge). We took the metro back to our room, changed into shorts, and went for gelato. I got orange and Oreo and they were both delicious. Kaitlyn liked the Sistine Chapel (even though it was hot) and the doughnut for breakfast. J liked the same things.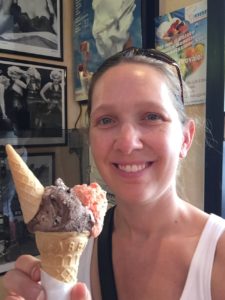 We ate dinner at That's Amore! Kaitlyn had a heart-shaped pizza. Jackson had some cheesy pasta he really enjoyed. Adam and I split bruschetta, amatriciana pasta, and veal scallopini. We had some kind of chocolate cake we all shared for dessert. We walked around after dinner to let our food settle. We walked past the fountain one last time. Still as crowded as ever. We walked a new section of town near our hotel and saw the sunset.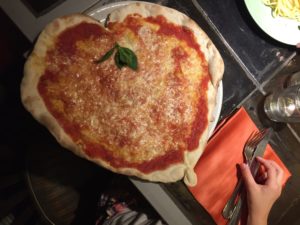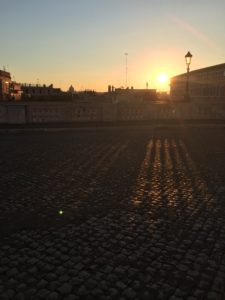 July 19: We were up and at 'em well before our taxi arrived. It took about 30 minutes to get to the airport. We got checked in, went through customs and security, and got a little breakfast – chocolate croissants for three of us and little sandwiches for Adam.
We wandered around the shops while waiting for our plane gate to show up on the screen. Our flight to London was uneventful. We had a long enough layover to get some lunch which we all devoured. It was good we did because the plane dinner was not great. We took off two hours late because there was a fire alarm in the control tower so they had to evacuate. The flight was uneventful. I watched Lady Bird and Three Billboards Outside Ebbing, Missouri. I finished two books. I played some Sudoku. We received ice cream bars on the flight (the kids were asleep for that). We landed and flew through passport control using the mobile app (thanks Uncle Billy). Our only real hiccup was that one of our bags didn't make it out of London. We were home around 12:30am.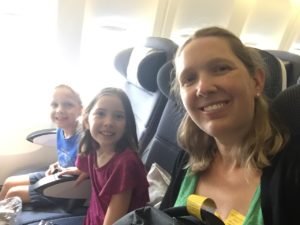 If you made it to the end, congratulations! Are you exhausted just reading about it? We had a great time, obviously!