It's the fourth Saturday of the month which means it's time to share a few of my favorite things from the past month. We are now fully into a routine of school, work, and weekends. We did a little more exploring of our area – hiking, visiting the apple festival and the mountain fair, and trying to get to know new friends. Below are four specific highlights from September.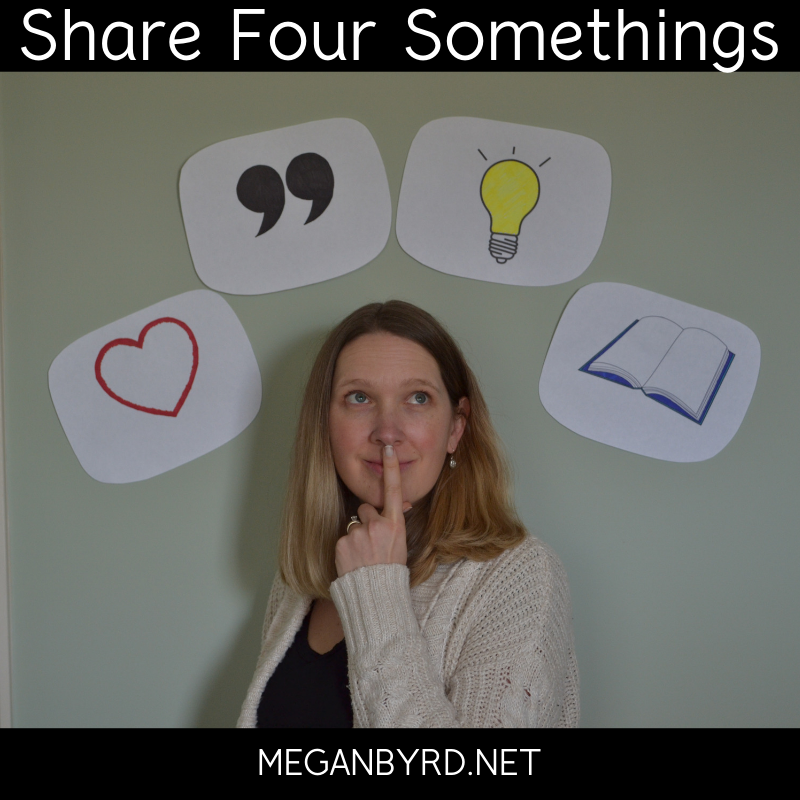 Something Loved
My husband bought an outdoor stove for our family to use as a firepit. We tested it out one Friday on our back patio. We decided to have an outdoor movie night with s'mores. We watched Star Wars: The Phantom Menace. It was a little warm for a fire but we all had a great time and will probably have more outdoor movie nights when the weather cools down.
Something Said
The kids were talking to their grandparents over Facetime and my daughter was messing around with the picture. She changed the video to black and white. One of the kids commented that it looked like they were in an old-timey movie. Their grandfather said, "Do something old then." Kaitlyn grabbed both sides of her waist, bent over a bit, and said, "Ooooooh, my back hurts!" We all started laughing. Kids are hilarious!
Something Learned
I was fortunate to read an advanced copy of Sarah Bessey's new book Miracles and Other Reasonable Things (out October 8th). I liked her previous two books and was interested to see what she would talk about in this one. It talks candidly about her car accident and the struggle to find physical healing and learn a new normal. The book covers her spiritual wrestling with believing God to be able to work a miracle but not necessarily expecting one. It's a very good book for people struggling with disappointment and living in the middle between what life is and what they want it to be. A footnote gave me a random bit of information that delighted me and is now firmly stuck in my brain for life. A group of zebras is called a dazzle.
Something Read
I read Latasha Morisson's book Be the Bridge: Pursuing God's Heart for Racial Reconciliation (out October 15th). It's a wonderful resource for anyone who wants to learn more about what racial reconciliation means, why it's important, and the steps to becoming a bridge-builder. It has thought-provoking questions that encourage the reader to consider their own experiences and biases and determine the next step they can take in their own lives.
*****
Those are my four somethings for September. I hope you enjoyed them. I would love to hear your highlights from the month! Post them below or feel free to add your own post over at HeatherGerwing.com!