The last Friday of each month I link up with other bloggers to share four things from the month that fit into each of the following categories:
Something Loved
Something Said
Something Learned
Something Read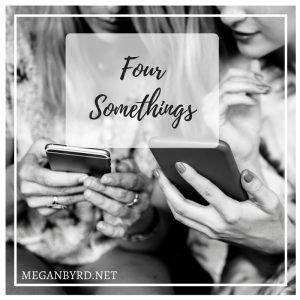 Join me and link up over at HeatherGerwing.com. You can also check out my Somethings from January, February, March, April, May, June, July, August, and September.
Something Loved
I had the opportunity to chaperone my son's field trip to a farm this month. I enjoyed spending the day with him and getting to meet his classmates. I now have faces to go with the names. Jackson had a good time and seemed to be happy I was there. I enjoyed the special time with him but was a little tired after helping supervise twenty kindergarteners for five hours.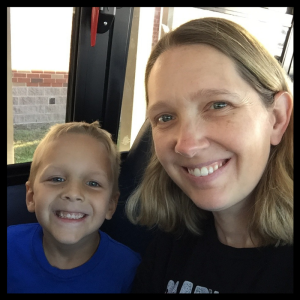 Something Said
Everybody has grit. We can't protect our kids from that grit…trying to protect them from that grit and still wanting them to become the person God wants them to be is a fruitless effort…It all goes back to, What is the story God is creating for them? It's a control either way. We're trying to control a perfect, idyllic childhood or we're trying to control that they learn all the lessons from us. That's not our job. God uses us to teach them lessons, but God's creating their story for them. We've got to release some of that control.
This quote is from Rebecca Peet on the Woven podcast episode on Contentment in Relationships. I could relate to this statement. We do want our kids to be well-rounded people who are resilient, kind, compassionate, etc. We know that some characteristics are best developed through difficulty or hardship but we really don't want our kids to have to suffer. We ultimately have to trust that God will help them through any struggle they experience and develop the characteristics he desires for them to have. We can't fully prepare them for their lives no matter how much we want that to be the case.
Something Learned
A friend of mine put out a call a few months back to encourage everyone she knew to donate plasma to help those with immunodeficiency or other need for medicines made from plasma. I initially looked into it but put it on a back burner for the summer knowing I needed at least three hours of non-kid time to go through the process. Now that school is back in session, I decided to pick a day when I had no plans to visit a donation center and go through the process. I learned that there's quite a process involved in being accepted as a donor. There were a few times when I thought I would be rejected, but I ended up passing all of the checks and delivered to a chair. The actual donation process took about half an hour and was not uncomfortable or unpleasant like I feared. Being able to donate and knowing that it helps people, I plan to do it again.
Something Read
I read an article on The Glorious Table called No Ministry Too Small about one woman's ministry of giving away carts and quarters at her local Aldi store with her children. It was very encouraging to be reminded that I can make an impact in my everyday life. I don't have to have an official position in a ministry to love and encourage others around me.