I can't believe we've already reached the fourth Saturday of the month, which means it's time to link up at HeatherGerwing.com to share some of my favorite things! This one snuck up on me because of everything that's been going on. My daughter finished her cross country season and my husband wrapped up tennis. I've had a number of social activities, including a Haunted Trail, the church Fall Festival, a college football game, and meet-ups with friends. We've been packing in the fun and it's been great. There are so many highlights from the month, it's going to be hard to narrow it down, but I'll try.
Something Loved
This is by far the most challenging category. I loved watching N.C. State beat FSU at Carter-Finlay with my husband. I think the last time we were in the stadium was twelve years ago and we also watched State beat FSU with our six-month-old daughter in tow.
It's fall in the mountains and the Blue Ridge Parkway is gorgeous this time of year. I trekked up to the Linn Cove Viaduct and the trees and views did not disappoint. One of the many reasons I love living in Asheville.
What's something you've loved this month?
Something Gleaned
I'm leading a small group at church this year and we're working through Discerning the Voice of God by Priscilla Shirer. The main thing I'm getting out of this is the importance of spending time being still before God. I'm terrible at slowing down and creating opportunities for God to speak. My urge is to fill every second of time I have with productivity. It's exhausting, and not how we're supposed to live. So I'm trying to create a stillness practice. It's very counterintuitive, but I'm hopeful that it will be good for me if I don't give up.
Are you good at resting or being still? If so, tell me your secrets!
Something Saved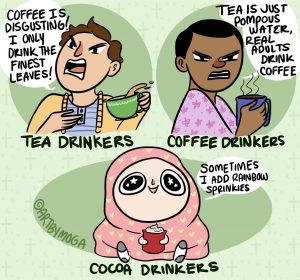 I saw this graphic on Instagram and immediately thought: I feel seen! I don't like coffee or tea. If I need a hot beverage, it'll be cocoa or apple cider.
Which of the three people in the image are you?
Something Achieved
One of my goals this month is to edit the manuscript for my second book in the City Love series (title TBD). Knowing that goals need to be measurable for success, I made the marker twenty-one chapters. I ended up editing thirty-six chapters! I still have a few more steps in the editing process, but I've been successful in reaching (and surpassing) the goal for October.
Do you follow the SMART system when setting goals (Specific, Measurable, Achievable, Relevant, Time-Bound)?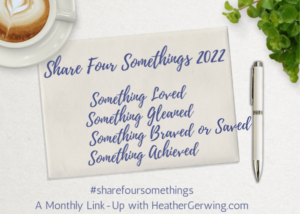 That's my October in a nutshell. November is National Novel Writing Month (NaNoWriMo) so prepare for a writing-related S4S next month!