Well, this has been quite a month. The first week or so started out fairly normal but quickly changed to what is, for the foreseeable future, a new normal. The kids started Virtual Learning School, with me as the work monitor. Thankfully, Kaitlyn's fairly self-sufficient now that she's had a few days to learn the ropes. Jackson likes to have company at all times and is easily side-tracked when things stop being fun, so we're working together to get his work completed each day. Hopefully, we can keep up a good rhythm and find ways to enjoy our extra family time. So, without further ado, here are my Four Somethings, COVID-19 edition part one.
Something Loved
The YMCA where we exercised closed at the same time as schools. I still like breaking a sweat every couple of days so I have loved all of the ways to get an instructor-led workout in. My favorite for a fast, effective workout is Betty Rocker. She has a lot of no-equipment-needed workouts often tabata-style but also some barre workouts. Adriene is still my go-to yoga instructor. Our Y even got in on it, offering some Facebook-live instructor-led workouts. I love all of the options that are available to keep me in good shape while not venturing out of the house.
Something Read
I have been a Jen Hatmaker fan since before I was selected to be on her launch team for her For the Love book in 2015. She has a new one coming out next month called Fierce, Free, and Full of Fire and it is excellent (read my review here). I can't wait to get my hands on the physical book (I have an e-version) and read through it again. If you're local, I'm hoping to do a book study in the fall so I can discuss it in person with others, assuming we can meet in groups again.
Something Treasured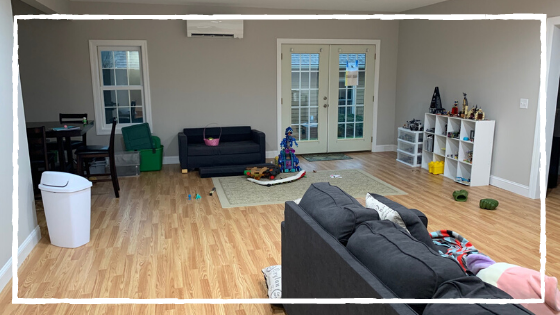 When we purchased our house this past summer, we were excited about having an unfinished basement. We got quotes and picked a contractor who started working on our project in January. The project was completed on March 18th. We moved in last weekend and are already over the moon with the extra space for our family. The kids love it and use it the most right now. I am so grateful for the timeliness of the project's completion.
Something Ahead
Now we come to the tricky part of this prompt. All of our plans have been canceled for the foreseeable future. My aunt and uncle had planned to visit us in April, but that is not happening now, obviously. However, there's one thing that will still happen, even if we aren't able to have all of the usual celebration of previous years. That is Easter. We have often spent it getting dressed up and driving to my in-laws' house. Last year, we were in Durham to celebrate my eldest nephew joining the church. I don't yet know what this year will look like but I do know that the season still contains all of the hope and joy we are able to find in Jesus.
*****
Those are my Four Somethings for March. I'd love to hear some of your highlights and celebrations for this past month. We need to keep looking for the bright spots in this unusual time.