It's a new year and some changes have been made to the Four Somethings for 2020. Heather, the hostess, said that she struggled with a couple of the somethings and, knowing this is supposed to be a fun post, decided to change them to something she thought would be more enjoyable. So this year's four somethings are Something Loved (same but focusing on something more tangible that other people could also enjoy), Something Read (always my favorite), Something Treasured (gratitude or thanksgiving for something in your life), and Something Ahead (what's coming up that you're excited about). I am happy for the changes and looking forward to sharing these new(ish) four somethings with you. Without further ado, let's get into it!
Something Loved
My something loved is 30 Days of Yoga. I don't know whether you're familiar with Yoga with Adriene but I learned about her many years ago when I became curious about yoga but was nervous about going to a class. These are free videos you can access to work on your own yoga practice and have an encouraging instructor help you get comfortable with moving your body in a loving way. Adriene makes yoga feel accessible to all and I love that about her. Each January, Adriene invites her viewers to participate in a 30 Days of Yoga practice. She makes a calendar and creates thirty videos around a particular theme (this year is Home). This is at least my fourth year participating and I find it to be a wonderful way to start off the year doing something good for my body and mind.
Something Read
I read Remember God by Annie F. Downs. This was the first book I've read of hers and am now curious to read her others. I enjoyed her style, which I'd say is memoirish. She is very transparent in sharing her struggles and the things and ways God is teaching her. What I appreciated about this book is that it doesn't have a satisfying ending. Annie's struggle with trying to figure out whether God is always kind to her and what that means does not culminate in her receiving her heart's greatest desires. She is still waiting and hoping that her desires will line up with God's plan for her life. If you want a read that isn't full of cliched sayings to try to get you to buck up, but instead invites you to be honest in your hurt, disappointment, or pain, then this book is for you. Also, the book itself is beautiful to look at.
Something Treasured
My family moved to Asheville six months ago. Since then I've been on a quest to cultivate community for myself and my family. Thus far one solid friendship has been formed between me and a woman I creatively call R1 in other posts. It still blows my mind how one conversation at the Y in the summer has led to such a cherished and encouraging friendship. I am so grateful for this blessing. It's something I can hold on to even as additional relationships are slow to develop.
Something Ahead
My daughter and I are going to be attending a Lauren Daigle concert next month. I am excited to take Kaitlyn to her first official concert and spend a weekend with just the two of us. I hope that it will be a fun time for both of us and that it will be a fond memory for many years.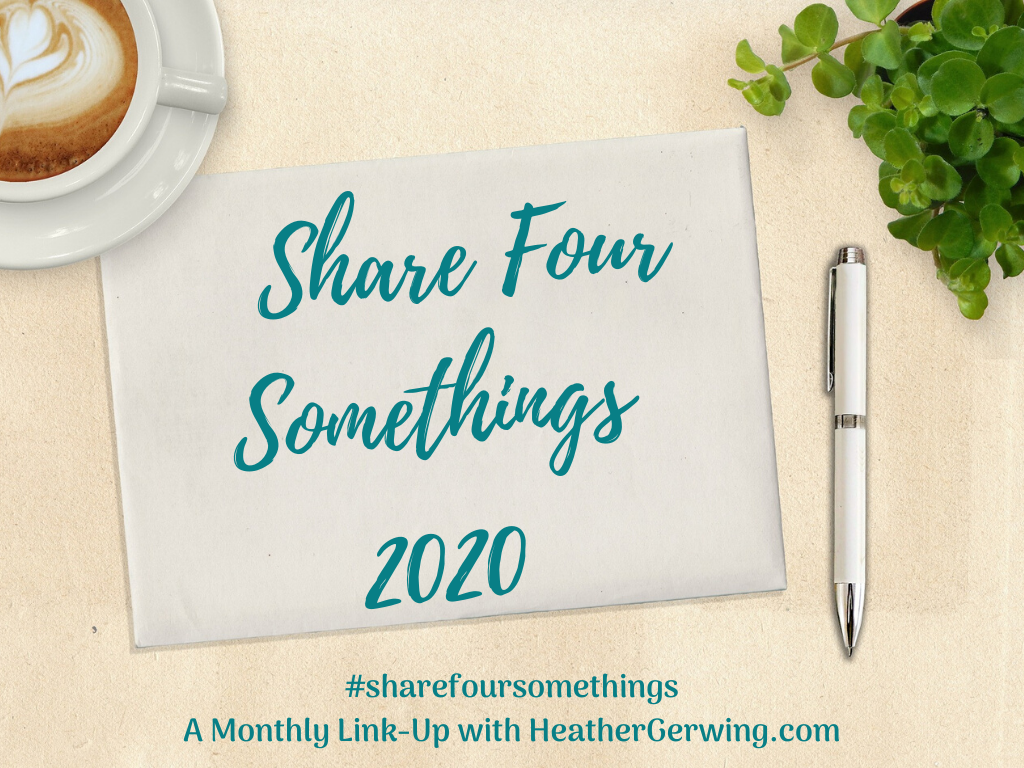 Those are my Four Somethings for January. I would love to hear your highlights as well. Share them in the comments or create your own post and link up at HeatherGerwing.com!