Last year I enjoyed reviewing each month and sharing my favorites in four different categories: something loved, something said, something learned, and something read. It was so much fun that I have chosen to continue the fun in 2019, though this year all posts will be the last Saturday of the month instead of Fridays. Feel free to share your own four somethings and join the link up over at HeatherGerwing.com!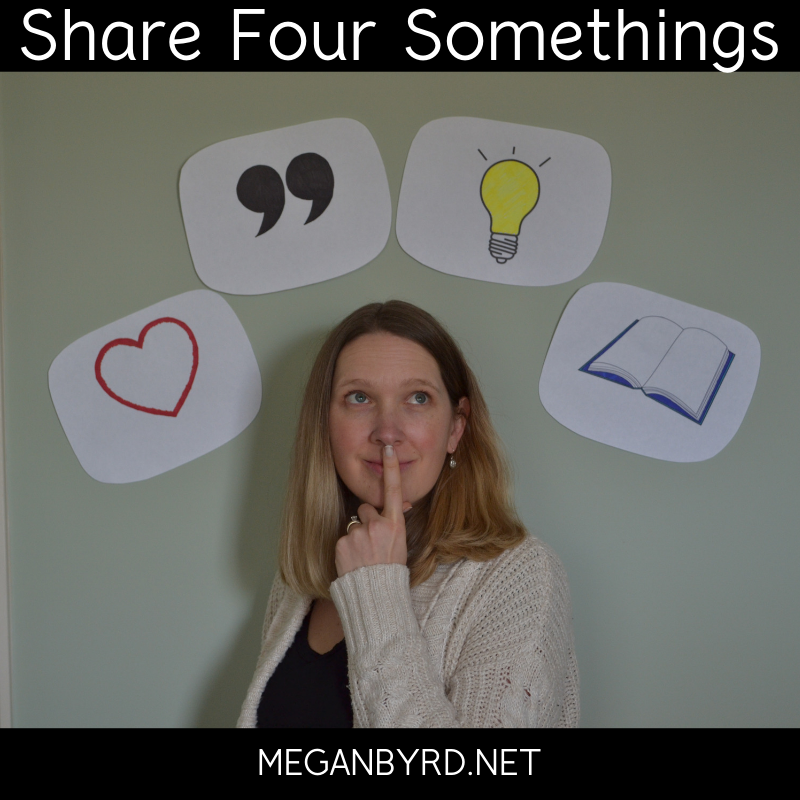 Something Loved
This year my daughter has decided to read through the Harry Potter books. I haven't ever read them either so I agreed to read them along with her. It has been so much fun talking about what we've read and discussing our thoughts on various events and the characters in the book. I love it so much that I hope we will continue to have a mother-daughter book club even after we finish this series!
Something Said
"When you know who you are you don't have to worry about what you aren't."
I am going through a study called I Declare War with a group of women in my church. Each week we work through a study guide and watch a short video that relates to the content. This quote is from the video and is also found in the full-length book that can also accompany the study guide. It was an encouraging statement to me because I tend to worry about pleasing others and this reminds me that I was purposefully created and shouldn't worry about the things I was not made to do.
Something Learned
My son is in kindergarten and part of his homework is reading each day. We have been reading through the Magic Tree House books together. In some of them Mary Pope Osborne (the author) shares a little of what she learned from the research she did before writing the story. In our most recent one, Polar Bears Past Bedtime, she shared that polar bears (who can weigh up to 1000 pounds) are able to walk on ice that is too thin for people to cross. They can balance their weight on the ice by laying flat on their bellies and pulling themselves across with their paws. Amazing!
Something Read
A friend lent me her copy of An Absolutely Remarkable Thing by Hank Green. I had no information other than she thought I might enjoy it. It was quite different from books I usually read but I thoroughly enjoyed it. I was immediately sucked in by the story and the way it unfolded. I raced through it, anxious to see how it would end! However, I was quite shocked when the pages ran out before I thought the story was finished. Turns out this is part one of two, the second of which has not yet been written. I really want to recommend this book, but I would suggest waiting until the second book is released (at a future unknown date) so that you can have the closure I'm still seeking. If that doesn't bother you, then definitely check it out!
These are four parts of my January experience. Yes, they all involve books. If you know me, you won't find that strange. I would love to hear some of your favorite things from the month so please leave a comment. Come back at the end of February to check out the next installment of Share Four Somethings!