August has still been a bit unusual for me. If we were still in Georgia, the kids would have been in school all month. Since we're now in North Carolina, they've only been in school for a week. I'm glad to finally be getting into a routine. Hopefully, by the end of next month, I'll be feeling more settled. The good news is our family has been all together this month and we did some exploring of our new town. I'm excited about even more adventures, especially as fall gets closer and the mountains around us become even more awe-inspiring as the leaves change color. In the meantime, here are some highlights from August.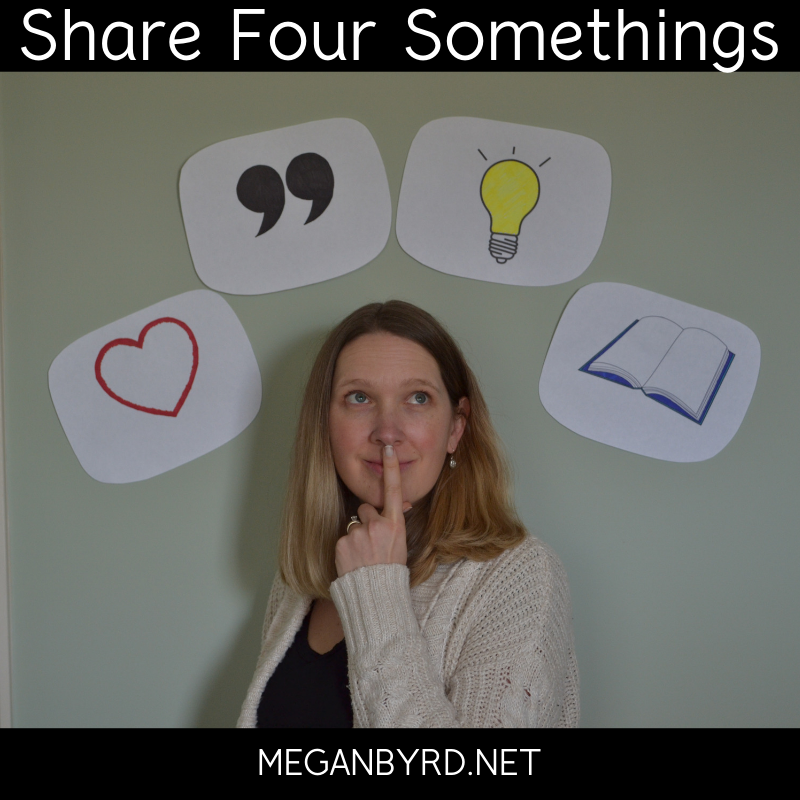 Something Loved
One of the highlights of moving up to Asheville was to reconnect with some old friends of ours who also used to live in Atlanta. They also have two kids who are close in age to ours so the kids and I got together with the other mom and kids for an introduction. We met at a library for rock painting, went to lunch, and then came back to our house for some free play. It was such a joy to hear the kids having fun as they played together. We have been able to have a couple of days at the pool with them as well and it has made my mom heart happy to have immediate friends for my kids.
Something Said
"I just think that so much of [the pressure to be a good mom] comes when we look to other people for what we should be doing. It's natural right? We want to validate that we are a good mom and that we are a good wife and that we're doing what we should be doing and all these things. But I think what it comes down to is when we are the best version of ourselves, when we are doing what makes us come alive, whatever that looks like – whether it's selling soup or just being a mom or working full-time – when we're the best version of ourselves then we're the best version of the mom we were made to be for our kids. "
This is a quote from Alana Dawson, co-host of the podcast The Mom Wants More. She and her co-host (Amber Salhus) were on my favorite podcast, Woven, as part of their The Four Keeps of Mothering series. This episode was talking about how women need to keep creating. They don't have to set aside all of the passions they had before becoming parents. They can choose to focus all of their energy on parenting, but working or doing something else creative is an equally valid choice. It should be considered a part of self-care. I really appreciated the four women's thoughts on the subject and would recommend other moms take a listen.
Something Learned
The kids and I took a delicious tour of The Chocolate Fetish in downtown Asheville. We learned the term couverture which refers to high-quality chocolate and indicates the amount of cocoa butter in the chocolate. We were given a basic education about high-quality chocolate including how it looks, sounds when broken, and tastes. If you're ever in town, definitely stop by the shop for delicious confections. I adore the truffles but also found a new favorite on the tour – dark chocolate pistachio turtles. (P.S. They can ship most of their product around the country.)
Something Read
I've only finished three books so far this month due to all of the family bonding time I got with the kids while they were out of school. They were all fiction and all very different. One was a very good post-WWII novel that also had flashbacks to WWI about female spies (The Alice Network). The second was a predictable but enjoyable contemporary romantic comedy-type book about a woman who receives an unexpected public proposal and the pediatrician who helps rescue her from the uncomfortable and embarrassing situation (The Proposal).
The third one is my highlight. The Wife Between Us is a psychological suspense book with multiple twists to keep you guessing about what is really going on. Every time you think you have a grasp on the situation, the view shifts slightly and everything changes. Richard's ex-wife is trying to keep him from marrying his new fiancee. His fiancee is a little jumpy due to an experience in her past and is looking for him to protect her, especially from the threat she feels. I don't want to explain too much of the story because I don't want to ruin it but you will be engaged quickly and unprepared for the twists.
Those are my four somethings for August. I hope you enjoyed them. I would love to hear your highlights from the month! Post them below or feel free to add your own post over at HeatherGerwing.com!