April was a pretty full month. The kids had spring break which found us at Six Flags twice, enjoying local parks, attending a Braves game, and seeing Wonder Park with some friends. We also experienced the end of the Lenten season and the celebration of Easter. My nephew joined his church, Jackson played some baseball, and we had warm spring-like weather in Georgia. It was a bit of a challenge to narrow down my favorite things but I did my best.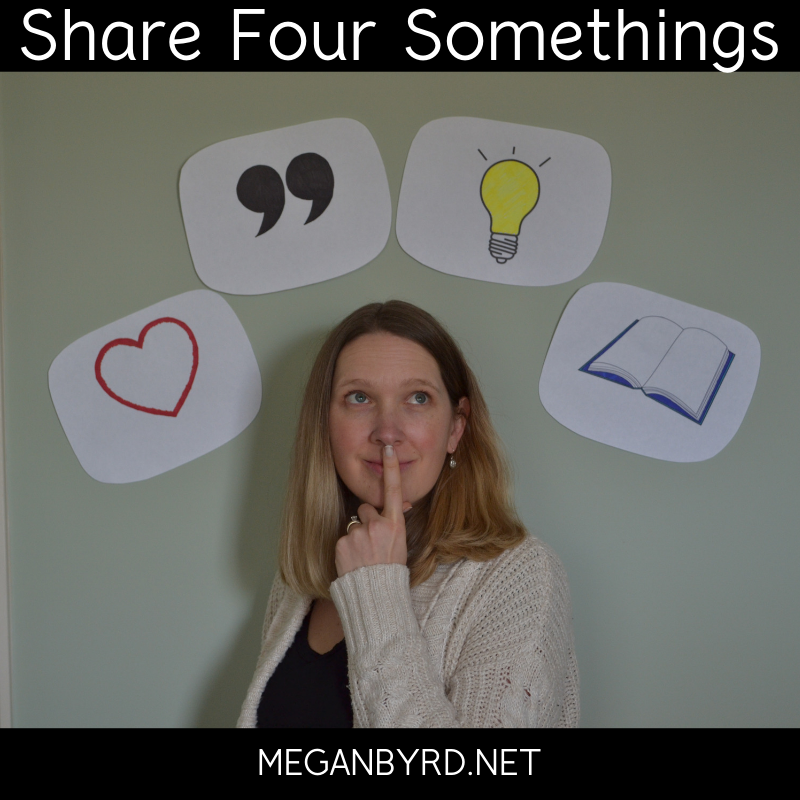 Something Loved
April in Georgia means massive amounts of pollen, but also the blooming of many trees and flowers, one of the most iconic being the azaleas. One of the most famous displays of azalea blooms is at the Master's Tournament in Augusta, GA. This year I won tickets to one of the tournament days so Adam and I spent the day together wandering the course and watching the world's best golfers. We went on Thursday which was a beautiful, sun-filled day. My shoulders ended up a little sunburned but it was a wonderful experience. No phones or cameras are allowed inside so everyone is distraction-free and can enjoy where they are and who they are with. I told my husband that it reminded me of life in the 1990s when we were still untethered from technology. I loved the whole experience – the environment, the company, the weather, and the novel activity (it was my first time at a golf tournament).
Something Said
One morning in my Christian formation class, Dr. Tim Larsen, thoughtful historian and scholar, gazed out over his students with a grin. "You all doing well at your Lenten practices?" he asked. We nodded, proudly. We were super holy. "You do know that part of what Lent is supposed to teach us is that we are weak and can't earn our salvation, right?" he asked. "If you don't fail at least once, you aren't doing Lent right." –From Almost Holy Mama by Courtney Ellis
I have practiced Lent off and on since I was in elementary school. I find it a helpful tool to prepare my heart and mind for Easter. I had never heard this interpretation of the purpose of Lent before but it makes complete sense to me. I struggle with perfectionism so I skew quite hard toward self-sufficiency and not asking for help. I thought sticking to my guns and not giving in to temptation was proof of my devotion to Jesus. I never thought that I was inadvertently conditioning myself not to rely on him and recognize my dependence on him. I now have a new facet to the Lenten season to consider and perhaps use to alter how I go about the fasting process. I used to think that the mini fast breaks many people took on Sunday was cheating, that people should try harder. Maybe the fast breaks help us remember how weak we really are and how grateful we ought to be to Jesus for being righteousness for us.
Something Learned
I love our local library. I am usually there with the kids several times each month. They enjoy picking out new books and using the computers. I enjoy perusing the shelves for new and interesting reads and the occasional move or puzzle. One day I went while the kids were in school because we had books to return and books on hold. I decided to wander through the shelves on the adult side and noticed, for the first time, that there are study rooms over there. I asked a librarian about it and she informed me that it is first-come-first-serve but you can use them for two hours. It's just a small room with a chair, desk, and desktop computer. I thought that this might be a great place to come and do some writing when I want to get out of the house but don't want to be somewhere with lots of other people (like Starbucks or Panera where I usually go). I look forward to utilizing this new option available to me.
Something Read
Several years ago I read The Rosie Project by Graeme Simsion. It is about middle-aged genetics professor Don Tillman who works at an Australian university (whose temperament reminds me of Sheldon Cooper from The Big Bang Theory) who decides he wants to find a wife and develops a questionnaire for this purpose. What follows is fairly entertaining. The second book, The Rosie Effect followed and was equally enjoyable. I discovered that a third book is coming out this year and requested The Rosie Result from NetGalley. It was a wonderful addition to help complete this trilogy. I don't want to give too much away because the books build on one another but I enjoyed this series and the issues discussed in them.
If you want to read more about other people's favorite April moments or share your own post, visit the blog link up at HeatherGerwing.com. I'd love to hear your April highlights. Leave them in a comment!