We've been in Asheville for a year now. Our initial church search felt a little frustrating as we were trying to find something with the same feel as our last church and struggled living in a smaller area with fewer options. We eventually found a young church that reminded us of our church in the early years and decided to give it a shot. We committed to getting involved in January and joined a Life Group (two for me) which were canceled in March due to the coronavirus. Since then, all church-related activities have been online or via electronic devices. Read on to hear about this past month. Click here if you'd like to be reminded of our first month's experience and see what's changed.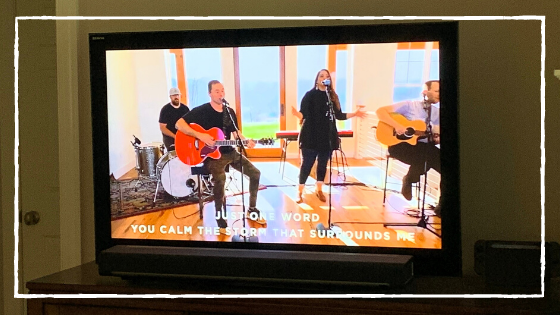 06-28-20
We watched church online at ten. The kids watched their video at the same time in the basement.
07-02-20
I texted C6 to check in and see how she's doing.
07-06-20
We were at the river this weekend and didn't watch church online. We took a walk in search of beauty and wildlife instead.
07-08-20
C6 sent me an email about her graduate school program she's starting this fall.
07-12-20
I watched the church message online.
07-13-20
C7 texted me to see if the kids and I wanted to meet her and her daughter at Patton pool sometime this week. We settled on Friday if the weather cooperates.
07-16-20
I texted T6 to check in.
I texted C7 and confirmed that she's still planning to go to the pool tomorrow.
07-17-20
We met C7 and her 3yo daughter at the outdoor pool to swim and hang out. The pool closed after about an hour and a half for threat of lightning but it was nice to spend a little time with them. Maybe we can do it again.
07-19-20
I listened to today's message from church while I walked around the neighborhood. I really miss meeting in person. They are signing up group leaders right now. I emailed the church with a few questions because I am interested in hosting a women's group online this fall. We'll see if it works out.
07-20-20
I emailed C6 back about her schooling that starts this fall.
I emailed the church pastor back about his response email and am now waiting to hear from the Life Group leader.
*****
It was quite frustrating to have to quarantine just as we were starting to get to know some other people. I'm glad to have at least swapped phone numbers and have had a face-to-face hang out with several women before we were all locked down. I have felt very detached from the church with the online services and have struggled to stay engaged and show up to YouTube on Sunday mornings. I'm hoping that there will be interest in the Zoom book study group I want to lead and I can form more connections that way. I hope we aren't stuck in this virtual relationship season for too much longer. What has your church experience been like this spring and summer? How have you felt about the lack of in-person connection for worship on Sunday mornings?