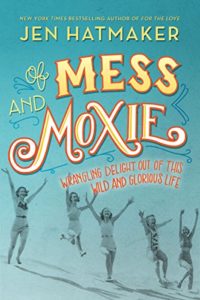 Of Mess and Moxie: Wrangling Delight Out of This Wild and Glorious Life by Jen Hatmaker is a collection of essays about life, Jesus, parenting and relationships. Sprinkled among the stories of her past, the wisdom she's learned from experience, the encouragement to live life fully engaged and pursuing our dreams are some very sarcastic and very true "How To"s (How To Get a Good Night's Rest With Young Children – haha!). She also includes a few recipes as cooking is one of her favorites.
I was very encouraged, inspired, and convicted by several of her essays. The chapter "Defer and Prefer" has been rolling around in my head in the days since I read it. Jen is talking about this in the context of marriage and communication styles but I have been thinking about this for all of my relationships in general. If I am trying to really love God and others then a defer and prefer mindset can help me to become better at both.
"Bonus Moms" talked about the treasure of parenting in community, of having trusted friends who can help shoulder the load. Bonus parents can be sounding boards for your kids when they might not necessarily want to talk to their parents about everything. This community-style living is something that I have craved for a long time – probably ever since I became a mother. I have gotten glimpses and tastes but nothing consistent. I would like to continue to pursue this goal of having other adults and families regularly in my children's lives so that they have some more relationships with non-family members they can trust and confide in.
Once again, Jen writes a book you will want to refer back to when you're struggling in your current season and want some encouragement, support or hope. You will close the book and feel that your perspective on life has been bolstered. If you want someone to remind you that you are doing well in your season and there is light at the end of the tunnel, this book is for you.
The book is officially out August 8, 2017. Go ahead and preorder a copy to receive some special freebies (only available until August 7th)! You won't be disappointed!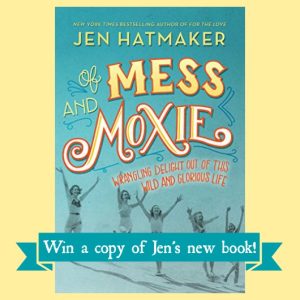 Here's something extra special for you. I enjoyed this book so much that I want you to have it too! To be eligible, comment on this post by sharing something in life that gives you delight or joy and like the social media post that brought you to this page. This opportunity runs through August 7th at 11:59 pm EDT and the winner will be selected on August 8th when the book officially releases. Good luck!
***Update: The winner of the book is Amanda Wissmann! Congratulations!***