For the past three years I have spent some time in December going through each book of the Bible and writing a verse from the chapter that corresponds with the coming year (this year verses from the 18th chapters). For books with fewer than eighteen chapters, I pick the 18th verse of a chapter. When that's not possible, I either pick chapter 1 verse 8 or something that speaks to me. I heard about this practice from a friend and have enjoyed it each year I've completed it.
This year I also looked for verses that emphasized bravery or not fearing to coincide with my word of the year (BRAVE). For example, in Genesis 18:31, Abraham is trying to save a city God wants to destroy and says, "Now that I have been so BOLD as to speak to the Lord, what if only twenty can be found?" Acts 18: 9-10 says, "One night the Lord spoke to Paul in a vision: 'DO NOT BE AFRAID; keep on speaking, do not be silent. For I am with you, and no one is going to attack and harm you, because I have many people in this city."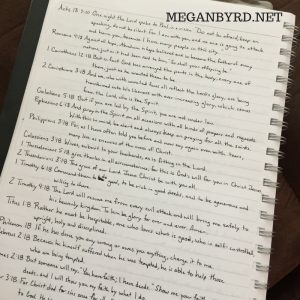 I also thought it would be beneficial to choose a few verses to memorize that would help me to be braver in the coming year. I found three standouts, though they are not all from my 2018 verse exercise.
They are:
2 Timothy 1:7 – For God has not given us a spirit of fear and timidity; but of power, love, and discipline.
Galatians 1:10 – Am I now trying to win the approval of human beings, or of God? Or am I trying to please people? If I were still trying to please people, I would not be a servant of Christ.
1 John 4:18 – There is no fear in love. But perfect love drives out fear, because fear has to do with punishment. The one who fears is not made perfect in love.
I am sure more will be added to the memory bank this year, but these are the current ones to memorize.
Do you pick a verse to memorize or that you hope will define your year? Do you have any scripture practices that you do each year?