I am an avid reader. My "to-read" list is more than 100 books deep. Every year I like to set a goal of a certain number of books to try to read. I have heard about a variety of reading challenges to encourage readers to venture out into a variety of genres or themes in their yearly reading. They all intrigue me and I may try that some time, but this year I have my own personal challenge.
I read both fiction and nonfiction throughout the year. I realized a lot of what I read is written by white men and women. Some of my fiction are authors from other countries like Sweden and Germany, but still not as diverse as I would like to help expand my perspective. For 2018 I want to make a point to read books, especially non-fiction, from authors of other races and ethnicities. I would like to grow in my understanding of the world and what life might be like for people who are different than myself.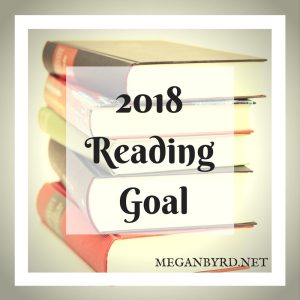 I have a goal to read 52 books this year. It is definitely attainable as I read more than that this year. I have other goals to spend time on next year which is why I am not setting a stretch goal in this category. Within this 52 books, I will strive for a minimum of one book each month to be authored by someone with a different perspective than myself.
I am excited to expand my themes and authors. I am interested in hearing recommendations, especially non-fiction. I will include a short list of some books I hope to check off of my list this year. Please give me more suggestions!
How to Fix a Broken Record by Amena Brown
Little Fires Everywhere by Celeste Ng
I Have a Dream/Also Letters from a Birmingham Jail by Dr. Martin Luther King, Jr.
The Book of Forgiving by Desmond Tutu
The Hate U Give by Angie Thomas
Play With Fire by Bianca Juarez Olthoff
Do you have a book reading goal? Have you ever tried a challenge involving various genres or themes? What was the best book you read last year?