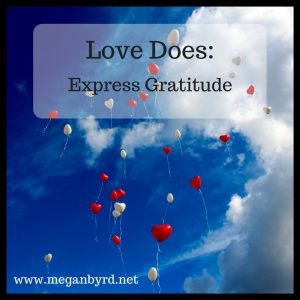 During this time of year we are reminded of our blessings and the importance of having a grateful heart. We show our appreciation through a variety of means including gifts and kind words. But we should express gratitude more than just two months out of the year. We should be thankful and show it every day.
Rejoice always, pray continually, give thanks in all circumstances; for this is God's will for you in Christ Jesus. ~1 Thessalonians 5:16-18
Some people have become very adept at remembering that they ought to be thankful at all times and in all circumstances. They are acutely aware of their blessings, especially the simple ones that many people take for granted. Waking up each morning is a blessing we don't often think about. Having a roof over our heads is not a given for everyone. Having our bellies filled with food each day is something to be thankful as there are many without such luxury.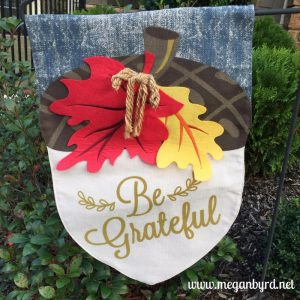 I will give thanks to you, Lord, with all of my heart; I will tell of all your wonderful deeds. ~Psalm 9:1
It is often quite challenging to recognize and acknowledge our blessings during difficult times and trials. Yes, there are things we don't think we ought to be grateful for, such as a prolonged illness, but there are blessings even in that – special time with family and friends that might not have been made without the reminder that each day is not guaranteed. For those who know God, they have hope and comfort that God is able to bring good things from even the worst events or circumstances.
Do not be anxious about anything, but in every situation, by prayer and petition, with thanksgiving, present your requests to God. And the peace of God, which transcends all understanding, will guard your hearts and your minds in Christ Jesus.~Philippians 4:6-7
When we remember how much we have been given, our love and appreciation for such a giving and loving God should spur us to in turn give to those around us. Being loved should cause us to be loving.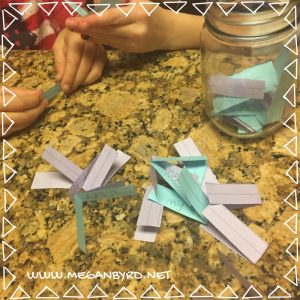 My daughter has been writing "Be Thankful" everywhere these days. She talked about wanting each day to write down things for which she is thankful. I thought it would be fun to give our whole family the opportunity so we created a "Be Thankful" jar for all of us to record our blessings. My kids went at it wholeheartedly. I'm sure our jar will be stuffed before the end of the holiday season.
Do you regularly express gratitude to God or to others who have shown kindness to you? What keeps you from thanking someone or recognizing their positive contribution to your life? Have you acted on your feelings of gratitude and passed on kindness to another?