Christians are supposed to be known by their love. Jesus said, "Everyone will know you are my disciples, if you love one another" (John 13:35). I want that to be true of me. Often I find myself caught up in the details of my own personal life rather than looking for opportunities to show love to those around me.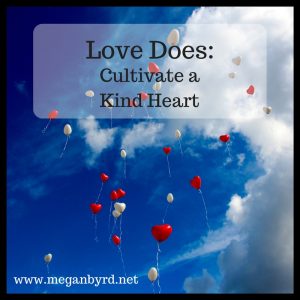 As the season of giving approaches, I really want to make more of an effort to truly notice others and engage in opportunities to be kind, compassionate, and loving. I also want my children to become people who notice others and show kindness.
Remember this: Whoever sows sparingly will also reap sparingly, and whoever sows generously will also reap generously. Each of you should give what you have decided in your hearts to give, not reluctantly or under compulsion, for God loves a cheerful giver. And God is able to bless you abundantly, so that in all things at all times, having all that you need, you will abound in every good work. ~2 Corinthians 9:6-8
Instead of just wishing our family would become more observant of the needs around us, I am taking a step toward increasing our awareness and our desire to show kindness to others. I created a Kindness Jar which contains strips of paper with an action we can perform to show kindness to those around us. Some examples are leaving a thank you note and treat in the mailbox for our postal worker, writing a letter to a deployed soldier, and purchasing a new toy to donate to Toys for Tots.
In November and December we will pull each strip out of the jar and perform the task written on it. We have extra strips for additional ideas the family comes up with as well as events we will participate in, such as a Rise Against Hunger meal packing event to be held at our church in November.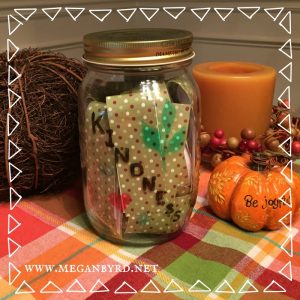 The papers are green, red, and white and come from a paper chain making kit. After we complete each task, we will turn the paper into a link and use it to create a festive paper chain to decorate our home. We will be able to see our acts of kindness grow and build on one another, a visible representation of growing in kindness.
I am quite excited to see how this exercise affects our family and our holiday experience. My daughter found the jar yesterday and immediately asked, "What is this jar of kindness?" I explained it and she is already thinking of things we might do to show kindness to others.
Let your light shine before men in such a way that they may see your good works, and glorify your Father who is in heaven. ~Matthew 5:16
Do you serve in specific ways over the holidays? Have you had your own version of a Kindness Jar? What are your favorite ways to bless others? I'd love more ideas and to hear your experiences!