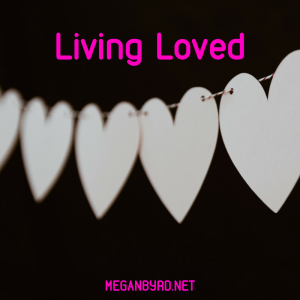 As I have been studying what love truly looks like lived out, I realized that it is also important to remember how loved I am. I want to love people well, but to love well you have to be loved well. Obviously, no one loves better than God, but as a fickle human, I often need the reminder of my status as God's beloved. Remembering that regardless of my behavior or others' thoughts of me, I am loved, valued, and accepted can help me continue to reach out in love. One of the most encouraging sections of scripture that reminds me I will never not be loved by God is Romans 8:35-39.
35 Who shall separate us from the love of Christ? Shall trouble or hardship or persecution or famine or nakedness or danger or sword?
Paul is talking to the early Christians for whom all of these things were very real and literal possibilities. My most pressing concern is ostracism. It's in a similar vein with persecution, but it's more the fear of rejection, of others dismissing me as dumb or gullible or foolish. I also think that fear of scarcity is another factor that keeps me from being more generous in love. Sometimes I am afraid that if I give so much of my time and resources to others, I will end up wanting. It's a lack of trust in God's provision.
36 As it is written:
"For your sake we face death all day long;
    we are considered as sheep to be slaughtered."
I assume this was a literal death. The early Christians were being persecuted and killed for their belief that Jesus was God's son. Yet they continued to share their hope and faith with the desire to spread it to those around them. For me, I think sharing my faith and loving others well involves daily deaths to myself, to my wants and desires. I have to surrender my wants and agenda to God to make room in my life for his plans and purposes.
37 No, in all these things we are more than conquerors through him who loved us. 
Through Jesus, we have victory over death. The things we accomplish in love are greater than anything that could harm us. We will have eternal blessings for our earthly work. Jesus did the hard work for us of sanctifying us from our sins. Therefore, it can no longer harm us and should not entangle us. We should feel free to lavish love everywhere.
38 For I am convinced that neither death nor life, neither angels nor demons, neither the present nor the future, nor any powers,
Whether we are dead or alive, we are still God's creations and still loved by him. Choosing to honor God or choosing to go our own way, neither will keep God from loving us. His love for us won't change no matter how much time passes or what direction our life takes. There is nothing more powerful than God. Nothing with more power than God's love.
39 neither height nor depth, nor anything else in all creation, will be able to separate us from the love of God that is in Christ Jesus our Lord.
I wonder if "height" and "depth" are euphemisms for heaven and hell. No matter where our souls end up, God will still love us and be fond of us. There is nothing in this world, nothing in the spiritual world, nothing we can do or say, that will ever remove God's love from us. Jesus, in his love and compassion and grace, died for us. This one act eternally reconciled us to God. We can choose not to accept the gift of salvation, but it won't keep God from loving us.
This makes me think of the question often asked about why a loving God would send people to hell. It's our choice, granted to us through free will. If we hate God, why would we want to spend eternity with him? Hell is eternal separation from God and heaven is eternal communion with him. God loves us so much that he will not force himself on us. We can choose not to be with him and he lovingly gives us our choice, regardless of the pain it brings him.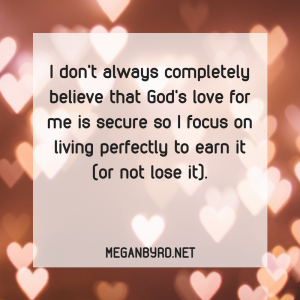 The reminder that I am loved always, regardless of behavior or thoughts, is encouraging and comforting. I have often felt (and lived) as though I had to work to keep God's love. I don't always completely believe that God's love for me is secure so I focus on living perfectly to earn it (or not lose it). If I can remember that I am always unconditionally and deeply loved, then I am released to love others. I can trust that God, because he loves me, will provide everything I need and don't have to horde what I think I need. I can, instead of grasping tightly, open my hands to both give and receive.
Do you have any different or additional thoughts about this passage?