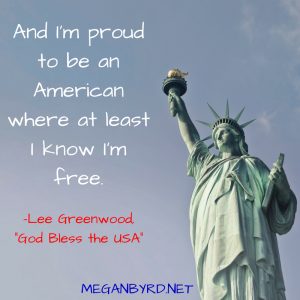 I used to sing this song all the time as a kid, even standing up while singing "And I'd gladly stand up next to you and defend her still today!"
It's a very patriotic song that encourages us to do our part to keep America a wonderful place to live. However, I am aware that not everyone who lives in these borders has the freedom we equate with life in the U.S. Every year there are 100,000 to 300,000 people trafficked in the U.S. The average age a child is first recruited is between 11 and 14 years old. They are kidnapped, deceived, drugged, and/or abused and forced to sell their bodies for money to give to their captors. They are assaulted multiple times a day every day, vulnerable to disease, addiction, and violence. This should not be happening, here or anywhere.
I live in the outskirts of Atlanta, dubbed "Sex Trafficking Capital of the U.S." Approximately 100 adolescent girls are sold for sex in GA each night. A report revealed that 7,200 men are paying for sex with adolescents each year in GA, and 42% of them come from my neck of the woods – north metro Atlanta outside of the perimeter (the suburbs). How can I ignore something that's happening in my own backyard?
What can we do to combat sex trafficking? Obviously, we can choose to not pay for sex. Also, discourage others from doing so or making it seem like an acceptable activity. These seem like a given, but there are thousands of men in my part of the state doing just that each year. It's not a victimless crime. We can learn signs of trafficking and stay alert for things that don't seem right.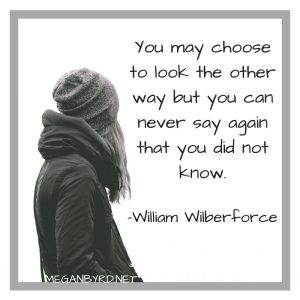 Our airport appears to be trying to be part of the solution by posting signs around the airport and in the bathroom stalls with helpline info. My latest trip through security, the TSA agent asked each of my children their names and if they knew who I was. Kids can be coached, but an effort is being made to try to catch traffickers.
We can support local and international agencies fighting sex trafficking through volunteering, donating money, and supporting other fundraising efforts. Wellspring Living has a residential program to restore rescued girls and women, upscale consignment stores to raise money, and annual events such as a golf tournament and gala. BeLoved Atlanta also has a residential program for rescued women. Georgia Cares works specifically with children who are victims of sex trafficking. Out of Darkness, Rescuing Hope, and Street Grace are other local agencies working to stop trafficking as well as rescue and restore victims. Many of them have volunteer opportunities.
You can purchase goods that are made by survivors or whose proceeds are donated to help fight trafficking. Here are a few of these companies: Thistle Farms, Starfish Project, UNCVRD Jewelry, Citizen and Darling, Elegantees, The Tote Project.
There are awareness activities that you can participate in to become part of the movement to stop human trafficking. The End It Movement asks everyone to put a red X on their hand on February 22nd to show your desire to stop trafficking. The LBD.Project is a challenge to wear the same article of black clothing for the entire month of March to raise funds and awareness about trafficking.
This past December I participated in Dressember, wearing a dress every day of the month, sharing info on social media including facts about trafficking, organizations fighting it, and businesses who employ rescued women and men or donate profits to agencies who help rescue and restore trafficking victims. I also raised $1000 that went to IJM, A21, and McMahon/Ryan Child Advocacy Center. It doesn't seem like a lot but it's a start and who knows what might come from me doing what little I can. It's better than not doing anything at all and may even inspire others to get involved. If we all work together, our efforts can help create lasting change.
Do you support any organizations that are fighting slavery? Is there another local or international issue that you are involved with? I'd love to hear about it!