I am participating in a blog link up on the last Friday of each month where bloggers will share four things from the month that fit into each of the following categories:
Something Loved
Something Said
Something Learned
Something Read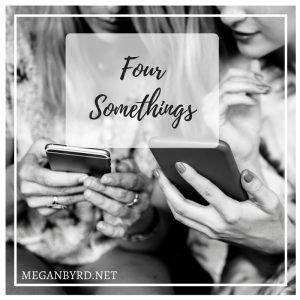 I am excited to ponder these four things each month and see what I find! I'd love it if you'd join me and link up over at HeatherGerwing.com. You can also check out my Somethings from January and February.
March's Four Somethings:
Something Loved
My daughter's birthday was this month. She is a voracious reader like myself and I decided it was time to pass down my collection of Baby Sitter's Club books that I loved as a girl. To enhance the reveal, I created a scavenger hunt with clues taking her all over the house before finding a large, heavy, wrapped box. I loved witnessing the joy she found in deciphering the clues to reach the destination. It was also wonderful to give my daughter something that I loved so much as a kid. (P.S. I always wanted to be Claudia because she was so artsy and creative unlike myself.)
Something Said
One of the surest ways to not fulfill your calling is to be paralyzed by fear. To do nothing. I know there have been chapters in my life when I've been so worried about getting it wrong, that I don't do anything at all. 'Cause it's easier. In my mind, it's easier. I don't want to make a mistake. I don't want to let God down. I don't want to disappoint him. I don't want to hurt the cause so I'm just going to stay here. Until he makes it really really really really really really clear I'm not going to do anything. And we call it waiting and it's actually paralysis.
This was said by Jo Saxton on her podcast Lead Stories with Steph O'Brien in Season 1 Episode 35 on Calling. I heard Jo speak on a different podcast, enjoyed the interview, and was curious to learn more about her personal podcast. It is about leadership and I am enjoying the wisdom she and Steph are sharing. I am in a season of trying to figure out what I should be doing and this was a good reminder not to allow fear to keep me stuck.
Something Learned
I have learned through years of walking out my freedom that what you don't reveal can't be healed. When I bring something out of darkness and into God's light, it no longer has power over me. So, let's agree to never be ashamed to admit that we need healing. God didn't make us to stay in the dark. No, Jesus came "as a light," so we can be cleansed by His healing power. Choose to step into His light, and let His light dispel all the darkness and empower your freedom.
This is a quote from Christine Caine's devotional Unshakable. I have been learning that I do have to share my struggles with others and seek help in order to find healing. This month has been a challenging month but I am experiencing the truth of letting things out of the darkness to remove their power.
Something Read
I don't regret anything I've ever done in life, any choice that I've made. But I'm consumed with regret for the things I didn't do, the choices I didn't make, the things I didn't say. We spend so much time being afraid of failure, afraid of rejection. But regret is the thing we should fear most. Failure is an answer. Rejection is an answer. Regret is an eternal question you will never have the answer to. "What if…" "If only…" "I wonder what would have…" You will never, never know, and it will haunt you for the rest of your days.
This was written by Trevor Noah in his book Born a Crime: Stories of a South African Childhood. If anyone has lived for any length of time, they are aware of the regret that stems from omission, from the things we didn't do or say. I appreciated the reminder that trying and failing brings more closure than never trying and always wondering what might have happened.
Yes, most of my somethings involved books. I love books! No shame, guilt, or apology here.