I am participating in a blog link up on the last Friday of each month where bloggers share four things from the month that fit into each of the following categories:
Something Loved
Something Said
Something Learned
Something Read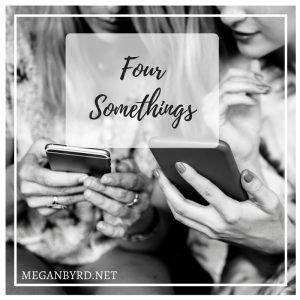 This has been a fun experience thus far! I am excited to continue to ponder these four things each month and see what I find! I'd love it if you'd join me and link up over at HeatherGerwing.com. You can also check out my Somethings from January, February, March, April, May, and June.
July's Somethings:
Something Loved
My family traveled to Italy for twelve days this month. I loved being part of my children's first time out of the country. They did so well enduring long travel days and various modes of travel as we toured the country. They were troopers spending hours walking around cities and staring at lots of art that may or may not have been interesting to them. It was a fun challenge looking for ways to engage them when they began to get restless. Adam was the best at distracting Jackson from all of the walking his little legs had to do. We learned that, of course, gelato fixes anything.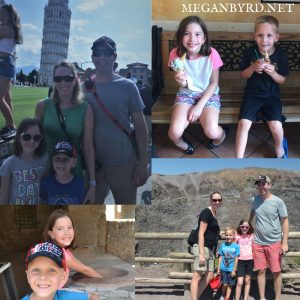 Something Said
Jen Hatmaker has a series on her podcast called Exploring Our Faith and she has had some very interesting conversations with people in it. The following excerpt is from her conversation with Brett Trapp, author of Blue Babies Pink (also a podcast if you prefer listening over reading), which I haven't read but it sounds like perhaps I should.
For me it really came down to just allowing myself to ask why, if this is such a true thing and if God is behind it, and the Jesus that I believe in that is so full of joy and grace and mercy, why is that thing causing so much destruction in so many people's lives? So I just came to a belief that God is against any theology that institutionalizes suffering for an entire class of people.
There are obviously a lot of conversations going on about faith and sexuality. I have not done much research but it's a topic I think I should delve into so that I can have more knowledge and be able to form my own thoughts about it.
Something Learned
My family traveled to Italy for twelve days and I had some opportunity to practice speaking Italian. I know Spanish so some things are similar, but there are plenty of differences (which is how I ordered a pizza with cooked spinach on it). Anywho, I now have a better grasp of the pronunciation of Italian words. I'm also a lot more familiar with Italy's geography, having traveled around various parts by train, metro, car, and taxi.
I did find it interesting that when I was trying to remember which words I did know in Italian, I often quickly recalled the Spanish word, making me realize just how much Spanish vocabulary I have in my brain. A friend of mine who is a missionary in Laos said that the same thing happened to her when she was trying to learn Laotian. Often, she'd recall the Spanish word instead (because Spanish was also the first foreign language she'd learned).
Something Read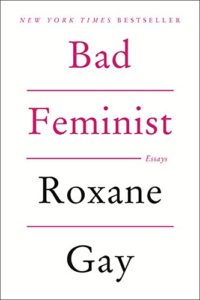 I read Bad Feminist by Roxane Gay which was a collection of essays talking about a variety of social issues, many of which directly affect her as a Haitian American woman. I really appreciated the thought and perspective she brings to the many issues addressed in the book. As a white heterosexual woman, I don't often think about how others experience the world (an obvious result of my privilege). I appreciated the opportunity to hear from a different perspective. I have included a few quotes from the book that stuck out to me.
To read narrowly and shallowly is to read from a place of ignorance.
This made me think of my desire to increase the diversity of the authors I read this year.
You don't necessarily have to do anything once you acknowledge your privilege. You don't have to apologize for it. You need to understand the extent of your privilege, the consequences of your privilege, and remain aware that people who are different from you move through and experience the world in ways you might never know anything about…You could, however, use that privilege for the greater good – to try to level the playing field for everyone, to work for social justice, to bring attention to how those without certain privileges are disenfranchised.
I am becoming more aware of the privilege I experience. I do want to use that for the betterment of society. The challenge is figuring out how to do that.
All too often, when we see injustices, both great and small, we think, That's terrible, but we do nothing. We say nothing. We let other people fight their own battles. We remain silent because silence is easier.

Qui tacet consentire videtur is Latin for "Silence gives consent." When we say nothing, when we do nothing, we are consenting to these trespasses against us.
A very convicting statement that I do have a responsibility to try to make an impact against injustices I see in the world. Not that I have to do everything, but I should do something, whatever is within my abilities and sphere of influence to do.