I am participating in a blog link up on the last Friday of each month where bloggers will share four things from the month that fit into each of the following categories:
Something Loved
Something Said
Something Learned
Something Read
I am excited to ponder these four things each month and see what I find! I'd love it if you'd join me and link up over at HeatherGerwing.com. You can check out my list from January.
February's Four Somethings:
Something Loved
I am an avid reader. My daughter has acquired this trait as well. I found out that the author of the Fancy Nancy books, Jane O'Conner, was coming to a local bookstore to promote her newest book and asked Kaitlyn if she would like to go as we have read many Fancy Nancy book over the years. She was excited to meet an author so we dressed up and went on the appointed day. Mrs. O'Conner read her newest book and shared about how she thought up Fancy Nancy. We also learned that this new book is the last in the Fancy Nancy series. The kids had a good time and I loved being able to share my excitement for books with them. I also loved how excited Kaitlyn was to meet an author she's read. Like mother, like daughter.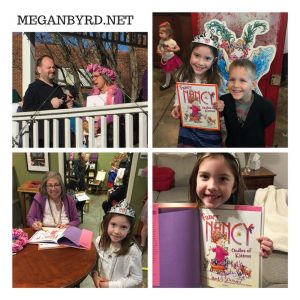 Something Said
On the way to preschool one morning, Jackson and I were talking about how old people were. He knew his age and his sister's age. When I asked him how old I was, he was close with his first guess of 31 and then counted his way up to 35. After learning the age of each member of our family, he said the following: Woah, you're 35 and daddy is 36! … Is that close to 100? Not quite, son, but thanks for that.
Something Learned
This month I have been watching the Olympics and have learned a few things. First, I learned that the U.S. is pretty dominant in performing tricks on a snowboard. The U.S. won gold medals in both men's and women's slopestyle and halfpipe events. I also learned where the name "Skeleton" comes from. Essentially, the top part of the bobsled was removed and the lower half, the skeleton, is what remained and is used as a sled for this head-first 90 mile-per-hour sledding event.
Something Read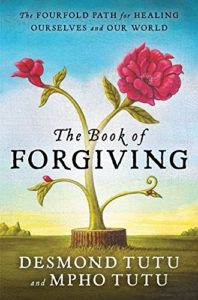 I read The Book of Forgiving by Desmond Tutu and Mpho Tutu (his daughter). It was a very interesting and helpful book on the dynamics and benefits of forgiving. I walked through a season of hurt over the last couple of years and was able to see that the freedom I now feel was through (inadvertently) working through the Fourfold Path to forgiving. I think it's a book everyone should read. I especially liked the section about forgiving yourself as that is a personal struggle of mine at times.