We are already in the fourth month of the year. How did that happen?! I set a few goals at the beginning of the year and know that accountability helps keep me on track so below are my stats for the first quarter of the year.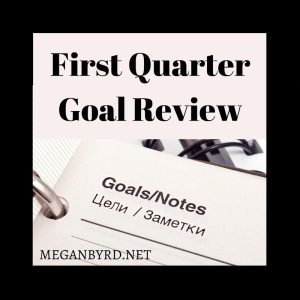 2018 Goals
1. Blog once per week.
I published six posts in January, six posts in February, and six in March. I have been able to publish every Monday and occasionally add another later in the week.
2. One date night per month.
Adam and I had two date nights in January – one to a fancyish no-kids church dinner and another to Krog Street Market in Atlanta. Neither of us had been to KSM so it was a fun experience. February flew by and we did not manage to have a date. In March, we had two again – one due to Jackson's preschool doing a Kids Night Out where we went for sushi and the other to see Black Panther to prepare for Infinity War.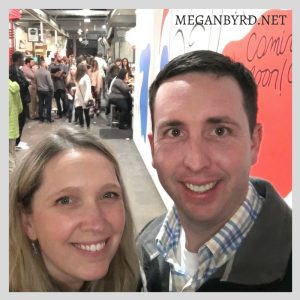 While we did not manage to get one in each month, we had four in three months so that's still winning in my book.
3. One-on-one time with each kid once per quarter.
Kaitlyn and I had a girls' morning in January when Jackson started back to school before Kaitlyn and we spent some time engaging at home and also visiting a bookstore, our favorite. In March we attended a neighborhood painting class and created flowers on canvas which was also an enjoyable one-on-one experience.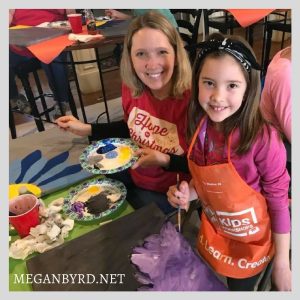 Jackson and I have nearly every Friday with just the two of us while Kaitlyn is in school and Adam is at work so we will go to the gym, play, read books, run errands, and occasionally go to lunch. I wanted at least one Friday to be somewhat special so in March we went to the Tellus Science Museum in Cartersville. Jackson really enjoyed the dinosaur bones and rock exhibits. We went out to lunch afterward to his favorite place.
It was fun trying to do something new, fun, or special with each kid. I am looking forward to seeing what else we do this year!
Book Goals
Because I love books so much, I have additional, separate goals for this category.
1. Read 52 books in 2018.
Thus far I have read 29 books. Over halfway there and still nine months left. I made a relatively low goal because I wasn't sure how the second goal (see below) would go with locating diverse books. It has been much easier than anticipated. Therefore, I am increasing my goal to the elusive 100 books. The past couple of years I have made it into the 80s so this will truly be a challenge for me.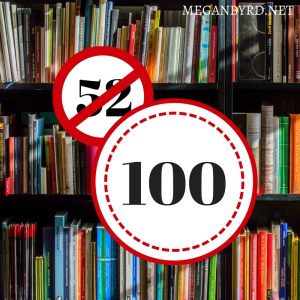 2. Read at least one book each month by an author with a different perspective from myself.
I edited this goal a little bit to focus on reading books by non-white authors. There are plenty of authors with European heritage in other parts of the world with unique perspectives but I have noticed the lack of books in my personal library by African-Americans, Native Americans, and people of African, Asian, Hispanic, etc heritage.
Below is the list of books I read that fit this criteria.
January: The Hate U Give, Between the World and Me, I am Malala
February: The Book of Forgiving, Little Fires Everywhere
March:  Long Walk to Freedom, Born a Crime, Milk and Honey
So far the goals are going well. Hopefully, this trend will continue. What goals are you working on this year?