Do you ever have that experience where there seems to be a common theme occurring in your life? You have various experiences that all have the same message attached to it? This tends to happen when God is trying to get my attention in a particular area. I had two different sources speaking to me about a similar idea: divine interruptions.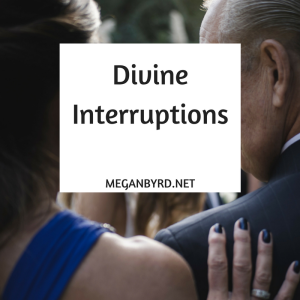 I saw a short video someone had posted on Facebook about when you feel in your spirit that God is asking you to reach out to someone, possibly a stranger, in a seemingly random way. He calls it Shoulder Taps, moments when God wants to use you to encourage or bless someone else. (Side note, I saw the video in July. Apparently, it had been posted and shared in April.)
I have been reading Christine Caine's devotional Unshakeable this year. One of my devotions at the end of July was called "God's Interruptions." In it, Christine wrote the following: What if we greeted each interruption with "Lord, what do You want to do here?" Sometimes we miss these God interruptions. Insecurities, awkwardness, and schedules can keep us from responding to interruptions God has prepared.
I know that I can sometimes be too focused on my to-do list or agenda and not have any room for God's agenda. If I cram my schedule to the brim, I definitely will not have the margin needed to respond to God's call. By not being open to God's plans, I am declaring my schedule more important than his.
I have recognized and responded to the still small voice in the past. I know the benefits and joy of being open, available, and obedient. It creates a desire to continue to respond but I sometimes still allow fear or busyness to prevent me from listening and acting. Perhaps God is encouraging me not to overextend myself and my time so that I will be more willing to respond to his shoulder taps.
Lord, please help me to stay open and available in order to respond to your plans and purposes. May I see interruptions as invitations rather than inconveniences.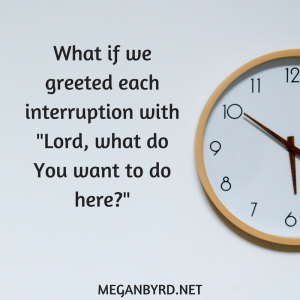 Keep on loving one another as brothers and sisters. Do not forget to show hospitality to strangers, for by so doing some people have shown hospitality to angels without knowing it. Hebrews 13:1-2