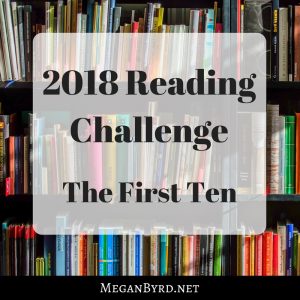 I have several different reading goals this year. The overall goal is to read 52 books in 2018. The second goal is to read at least one book each month by a non-white author to expand my knowledge and perspective. A third, less pressing goal is to check off the 12 different categories of books Anne Bogel  (aka ModernMrsDarcy) suggests to help vary the types of books read this year.
I am planning to post an update every ten books, however quickly or slowly that happens, and indicate any books that meet the second and/or third goals. I had a quick start out of the reading gate this year and managed to finish ten in the first month.
In January I read three books by non-white authors (indicated with an *). I read the following from Anne's list: 1) a book in translation (BiT), 2) a book you can read in a day (1D), 3) a memoir, biography, or book of creative nonfiction (NF), 4) a book by an author of a different ethnicity, race, or religion than your own (DiF), and 5) a book nominated for an award in 2018 (Awd).
January
1.Little House on the Prairie by Laura Ingalls Wilder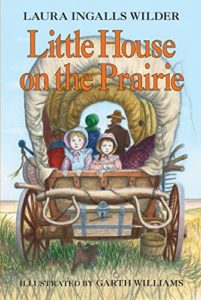 I read all of these books when I was my daughter's age and wanted to read them with her. This is the third one we've read together (we got out of order somehow). I enjoyed reading about life on the prairie and talking about the differences of life then versus now. We (including my 5yo son) also had some discussion about the relationship between the Native Americans and the settlers and why the Native Americans were did not care for those moving into and taking over their land. I've enjoyed the questions and discussions that have come from reading these books. Some parts have felt slow or boring to the kids but overall they have enjoyed the story.
2.The Hate U Give by Angie Thomas* (DiF) (Awd-winner 2018 William C. Morris Award)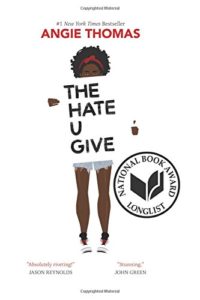 I really appreciated the perspective from this book. I do not have any personal experience with any of the situations Starr faced. I have not given a lot of thought about what life is like for many people and I know it's a result of my privilege. I want to raise my awareness of the differences in how people not like myself are seen, received, and/or treated. I realize this is a fiction book, but anyone who watches the news knows that these situations are reality for many.
I liked the storytelling in how the author unfolded information as time went along. It is a very tough and heartbreaking story but I cheered on Starr as she tried to figure out what was the right thing to do and choosing to do what she deemed best even when she was scared. I loved her family, their dynamics, and the support and love they have for each other and their community. I feel like I learned more about the African-American experience in America which is what I desired from this book.
3.Into the Water by Paula Hawkins (DiF)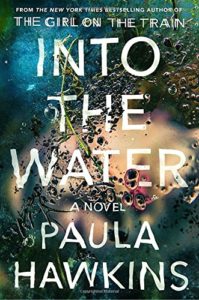 I read this book in a little over a day. It took me a bit to get all of the characters straight (made slightly more challenging having been read on a kindle where you can't flip around easily) but once I had everyone straight I was thoroughly engaged.
Nel Abbott is found dead in the Drowning Pool. Her estranged sister Jules was called to identify the body and become guardian of Nel's 15 year old daughter. Jules thinks Nel might have jumped because she seemed obsessed with the river and all of the other women who had died in the Drowning Pool. She had been researching the history and the stories of the other women and Jules wonders whether she had discovered something someone wanted to keep hidden and perhaps it wasn't a suicide after all.
The story is told from the perspective of a number of citizens of the town, including some of the stories Nel had written about the other drowned women. My guess of what happened changed as the story went on with the revealing of new information as each person shared more of their history and perspective. Very well-written that had me guessing until the very end.
4.Help Thanks Wow: The Three Essential Prayers by Anne Lamott (1D)
This was a quick read (less than four hours while also watching the NCAA football National Championship). In it Anne says that "Help", "Thanks", and "Wow" are three prayers we call can pray that make us more aware of God in our lives and our place in the world. Praying "help" reminds us that we are not in control and must have faith that when we pray God will show up. Praying "thanks" reminds us of all that we have to be grateful for and all of the blessings, big and small, in our lives. Praying "wow" is the sense of wonder and awe we experience when we are reminded of how small we are in the grand scheme of things or how much beauty there is in the world. And we finish all of our prayers with "Amen", so shall it be, trusting that God will do what is needed, what is best.
5.Between the World and Me by Ta-Nehisi Coates* (NF) (DiF)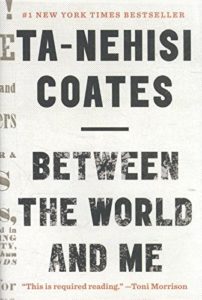 This book is essentially a letter from a father to his son, trying to help his son understand where his view of the world and how his experiences shaped him as a man and a father. He explains about the unique situation of African-Americans and the fight to make their bodies their own, rather than something to be exploited and plundered by those calling themselves white for the purpose of preserving the Dream.
I learned more about Ta-Nehisi's perspective and his experiences as an African-American in the United States. I, obviously, grew up with a completely different experience and live without the same fears, concerns, and parental instruction and warnings. I didn't understand everything he was trying to say, but it has definitely increased my awareness and understanding of his experience. I am sad that not everyone has the same freedom and privileges in a country that proclaims that all men are created equal.
I don't yet know what I am to do with this information or what power I have to make any kind of difference in the inequality in our country. I definitely have a lot to process.
6.Brave Enough by Cheryl Strayed (1D)
I didn't read anything about the book before checking it out from the library as an ebook. My word of the year is Brave so I thought maybe this would apply. It turned out this is a book of quotes Cheryl has written or spoken (hence the " " on the front). I haven't read any of her other books so everything was out of context for me. There were a few quotes that were encouraging to me. As a book of quotes, I'd say it's decent. It would probably be more enjoyable if I had read a full book by her. It was a very quick read.
7.In Bloom: Trading Restless Insecurity for Abiding Confidence by Kayla Aimee (NF)
I really loved this book. Kayla was very honest with her struggles with insecurity and finding confidence through her identity in Christ. She tackled a number of areas where women struggle with insecurity: our bodies, our pasts, our gifts, our relationships, and our parenting to name a few. I felt like we could be good friends who bond over Baby Sitters Club books and 90s nostalgia. The book spoke to me personally but I also think it would be a very helpful and encouraging read for teen girls as well. A great book for women to remind them of the freedom and confidence we can have in Christ.
8.I am Malala: The Story of the Girl Who Stood Up for Education and Was Shot By the Taliban by Malala Yousafazi*, Christina Lamb (NF) (DiF)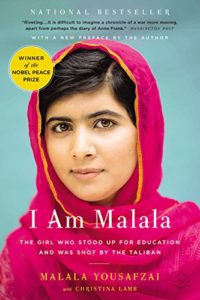 I really enjoyed this book. I didn't know a lot about Malala and appreciated learning the history of her country and her family. We have vastly different lives but I am inspired by her boldness and passion in speaking about the right for education despite the danger and threats. I should be as audacious in speaking up for human rights rather than living in my privileged life.
9.The Girl Who Takes an Eye for an Eye by David Lagercrantz (BiT) (DiF)
This book is a good continuation of the series. I enjoyed the brief info about the characters at the beginning to refresh my memory. Lisbeth is in prison stemming from the previous novel and has asked Bloemkvist to look into a person named Leo Mannheimer for her after a visit from her good friend Holger Palmgren. She is also focused on protecting a fellow prisoner, Faria Kazi, who is being abused by a fellow prisoner. It is a long, fascinating story with several lines that converge along the way. I was curious to see what was so intriguing about Leo and what evil was going to be uncovered by journalist Mikael Bloemkvist.
10. Simply Tuesday: Small-Moment Living in a Fast-Moving World by Emily P. Freeman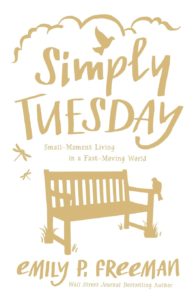 It took me three starts of this book to get through the whole thing. This doesn't mean it's not a good book. It means that I wasn't quite ready for the message the first two times but the third time I was "yes"ing and underlining often. The book reminded me that everything has a small beginning but also that not every small beginning will have a big ending. It made me confront my desire to be known and had me decide whether I would still be fine if my big dreams don't work out as I want. Will God's purposes for my life and gifts be enough? And while I'm waiting for a potential break, can I be content and faithful in my ordinary days? Emily encourages us to embrace each day, to enjoy the here and now rather than longing for the future. It is a message I really need to hear as I wonder if I will always have a small life and think about why I think that's not a blessing.
What should I add to my to-read list? I love recommendations!