I have several different reading goals this year. The overall goal was to read 52 books in 2018. Having finished thirty books in just over three months, I decided to up it and go for 100 books in 2018. I have made it into the 80s the past two years so we'll see how it goes. I created an Instagram account to help me track my reading. Feel free to follow along @meganbyrdreads!
The second goal is to read at least one book each month by a non-white author to expand my knowledge and perspective. A third, less pressing goal is to check off the 12 different categories of books Anne Bogel (aka ModernMrsDarcy) suggests to help vary the types of books read this year.
This is the third update for the year. Here are the lists of books 1-10 and 11-20.
I read 3 books in March by non-white authors (indicated with a *). I read the following from Anne's list: 1) a book of poetry, a play or an essay collection (PPE), 2) a book you can read in a day (1D), 3) a book by a favorite author (Fav), 4) a memoir, biography, or book of creative nonfiction (NF), 5) a book by an author of a different race, ethnicity, or religion than your own (Dif), and 6) a book recommended by a librarian or an indie bookseller (Lib).
March (pt 2)
21.The Sound of Gravel: A Memoir by Ruth Wariner (NF)
*Potential Spoilers* This book is about a woman who grew up as a child in a polygamy colony in Mexico. She shares her life experiences of being a child of a mother who is the second wife of a man who is her stepfather. The story is engrossing and I read it in less than three days.
The poverty, struggles, and abuse of Ruth and her family are so sad. I hate that she had such a terrible stepfather and suffered so much loss and heartache. I am so glad that she now appears to be a healthy woman who was able to protect and care for her younger sisters.
22.Born a Crime: Stories from a South African Childhood by Trevor Noah * (NF) (Dif)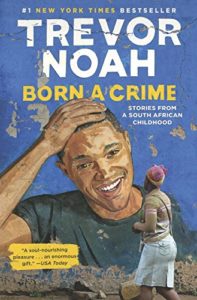 It took me so long to finish it because I had checked it out of the library and couldn't renew it after the initial two weeks. I had to place another hold and wait for it to get to my turn again.
This book is about Trevor Noah's childhood in South Africa. He was born during apartheid to a black woman and white man which was illegal. His parents couldn't be seen together and at times his mom had to pretend to be his nanny because Trevor was considered colored. Even after apartheid ended, there was still racial tension and divisions and minimal opportunity for non-whites to improve their circumstances.
I think I benefitted from reading Nelson Mandela's autobiography while waiting to get this book back because I have a better understanding of apartheid and life in South Africa during Trevor's early years.
23.milk and honey by Rupi Kaur * (PPE) (1D) (Dif)
I didn't realize this was a book of poetry when I picked it up. I enjoyed the poems – the styling, drawings, format, and themes. There were hard truths spoken but also a lot of encouragement. It was very engaging and thought-provoking and I read it in a few hours.
24.50 Ways to Feel Happy: Fun Activities and Ideas to Build Your Happiness Skills by Vanessa King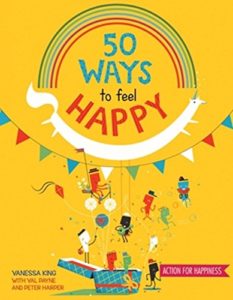 This is a very practical book of information about ten keys of happiness and activities you can do within each key to improve your mood and potentially have lasting positive effects on your mood. The book is geared toward children and contains information about happiness along with 50+ activities that can be done to create or develop feelings of happiness. It empowers the reader to believe that they can take charge of their emotions and do something that can increase their level of happiness.
I read the book quickly and look forward to going through it with my children and completing some of the activities with them to see whether they will increase our feelings of happiness. I will update on our experience.
25.The Road Back to You: An Enneagram Journey to Self-Discovery by Ian Morgan Cron and Suzanne Stabile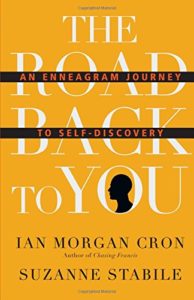 I have heard a lot about the Enneagram from podcasts and online communities. My mother-in-law read it and tried to send me her kindle copy but it wasn't shareable so I put it on my very long to-read list until I got around to it. Recent events (plus a personal interest for tests and measures) had me take a test to find my number. The results were not very decisive so I thought this book might help me get a better grasp on where I fit on the Enneagram.
This book was very helpful in that regard. It offered helpful suggestions to help me be more honest with myself about who I am, asking me to figure out my motivation behind why I do the things I do, consider myself as both a child and at age 20.
The book was a very interesting read. It seems like a great introduction to the Enneagram and talks some about other resources for those interested in learning more.
26.Origin by Dan Brown (Fav)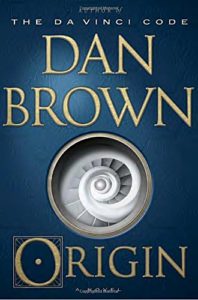 Robert Langdon is in Bilbao, Spain for a presentation to be given by a former student and now friend Edmond Kirsch. In the middle of the presentation, an assassin shoots and kills Edmond before he can share his new and supposedly world-changing discovery. Robert and Guggenheim curator Ambra Vidal determine to figure out a way to release Edmond's discovery so that whoever killed him in an effort to suppress the information will not win. It is a race from Bilbao to Spain to succeed while trying to figure out who is behind the assassination. Could Prince Julian, the future king of Spain and Ambra's fiancee be involved?
I have read the other Langdon novels and have enjoyed them all. I especially enjoy the various European settings of the adventures. Having studied abroad in Spain and being a fan of Antonio Gaudi, I was especially interested to read this one. While I managed to figure out some of the mystery on my own, it was still enjoyable.
27.Walking on Water: Reflections on Faith and Art by Madeleine L'Engle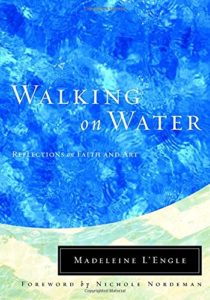 A friend recommended this book and I really enjoyed it. I had read a couple of L'Engle's books as a kid and remembered them being challenging and maybe a little scary. I am interested to reread them as an adult, especially learning more about them and her writing process in this book.
Madeleine talks about the intertwining of Art and faith and her rankling at the term "Christian art". She talks about how all art that points to aspects of God is Christian whether or not the artist identifies themselves as such.
The book gave encouragement for artists of all genres, obviously including writing. I liked how she shared her processes and experiences with writing. It was an inspiring read.
28.On the Banks of Plum Creek by Laura Ingalls Wilder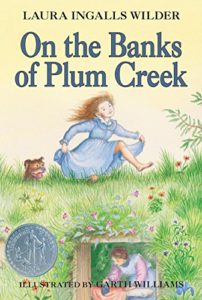 The kids and I finished the fourth book in the series. In this one, the Ingalls family is learning life in Minnesota. They start out in a sod house until Pa builds a wooden one. Pa is excited to grow and harvest wheat but their first year grasshoppers come and eat everything in the area including the wheat so Pa (Charles) has to go east to find work to help pay for their new house. He has to do the same the second year because the grasshopper eggs will hatch and the new grasshoppers will eat any new planted crops. We also hear about the blizzards of Minnesota and the girls' first time at school and attending church now that they live near a town.
I really enjoy hearing about life in the 1800s and imagining what the U.S. might have looked like back then. The kids commented that it seemed like there were a lot more chores back then. I suppose if we were farmers they wouldn't think so but suburban life is much different than what we read about.
29.The Last Anniversary by Liane Moriarty (Fav)
I really liked this book. I am a fan of Liane Moriarty. Some books were not as good compared to Big Little Lies (my favorite) but I still wanted to read them all. This was the last on my list.
Sophie Honeywell receives a call from her ex-boyfriend to say his great aunt died and left her something in her will. It turns out to be her house on Scribbly Gum Island, site of the famous Munro Baby Mystery. The family that lives there, including the now 72-year-old Munro baby, have turned the island into a destination adventure and a money-making business.
Will Sophie learn the truth behind the mystery as people have been hinting about? At 39, will she ever find someone to marry and have a baby with as she deeply desires?
I was thoroughly engaged in the story and the slow unraveling of information about the various characters. I enjoyed the story and especially liked the surprises interspersed throughout the book. I would recommend this one. It would be a great vacation read.
April
30.Mr. Penumbra's 24-Hour Bookstore by Robin Sloan (Lib)
Clay is an out-of-work graphic designer in San Francisco looking for employment. While wandering around the streets he sees a Help Wanted sign in the window of a 24-hour bookstore. He enters and talks with the owner who offers him the overnight clerk position. He takes it but soon wonders what type of books are in what he calls the "Waybacklist" because they are only to borrow, not to sell. He discovers that those books are in some sort of code. His curiosity leads him into the heart of a big mystery and into an unexpected adventure with his friends and the bookstore owner.
It was an engaging and fun read. I enjoyed the mystery and watching it unfold through Clay's eyes.
Have you read any of these? Do you have any recommendations for me?