I have several different reading goals this year. The (new) overall goal is to read 100 books in 2018. I created an Instagram account to help me track my reading. Feel free to follow along @meganbyrdreads! The second goal is to read at least one book each month by a non-white author to expand my knowledge and perspective. A third, less pressing goal is to check off the 12 different categories of books Anne Bogel (aka ModernMrsDarcy) suggests to help vary the types of books read this year.
This is the fourth update for the year. Here are the lists of books 1-10, 11-20, and 21-30.
I read 3 books in April by non-white authors (indicated with a *). I read the following from Anne's list: 1) a book in translation (BiT), 2) a book by a favorite author (Fav), 3) a book by an author of a different race, ethnicity, or religion than your own (DiF), 4) a memoir, biography, or book of creative nonfiction (NF), and 5) a book recommended by someone with good taste (Rec).
April (pt 2)
31.The Story: The Bible as One Continuing Story of God and His People edited by Randy Frazee (BiT)
This book is a chronological telling of the Bible. It doesn't include every verse of the Bible but is true to God's story. It provides some additional information, a timeline, and helpful segues between sections. I enjoyed receiving a better understanding of when the accounts of different books occurred and the opportunity to read the Bible in a continuous story form.
32.Raising World Changers in a Changing World: How One Family Discovered the Beauty of Sacrifice and the Joy of Giving by Kristen Welch (Fav) (NF)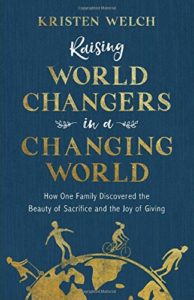 I really enjoyed this book. I do want to raise kids who are compassionate and generous and loving toward others. I know that part of the way this will happen is for me to demonstrate these qualities myself as their parent. This book spoke to where I am at in my life right now, desiring to live a life that actively loves and serves others in Jesus' name. This book offers encouragement in this area and provides good questions to discuss with kids to help us all consider what our resources are and how we can use them to help others right where we are.
33.The Alchemist by Paula Coelho* (BiT) (DiF)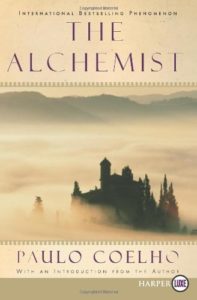 A Shepherd boy from Andalucia has a recurring dream about a treasure at the Pyramids of Egypt. He meets an old king who tells him it is his Personal Legend to find this treasure and encourages him to follow his heart to reach his goal. The boy decides to look for his treasure and leaves Spain for Africa. He encounters setbacks and help along the way.
It was an encouraging story about pursuing and following your purpose with reminders not to covet others' purposes. We all have our unique life to live and should enjoy our own journey.
34.Parents Rising: 8 Strategies for Raising Kids Who Love God, Respect Authority, and Value What's Right by Arlene Pellicane* (DiF)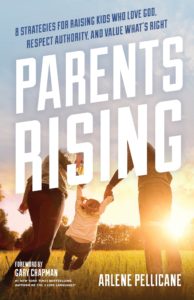 Parents Rising helps parents stay (or get back in) the driver's seat of their home by reminding them of the authority and responsibility they've been given by God and providing strategies to help their children become respectful, responsible, and compassionate adults.
The information in the book was familiar to me but I appreciated the reminder of the things I should be doing for and with my children and the statistics that emphasize the importance of being an active parent to my children. Some of the information was a little convicting as I have been slack in some areas (like actively encouraging my youngest to learn how to tie his own shoes).
This book will remind parents of their role in their child's growth, education, and preparation for life after high school. It encourages us to step up to the plate and do what we were called to as parents for the benefit of our children and ourselves. If someone is feeling discouraged as a parent, this is a helpful book with good strategies and encouragement to help get back on track.
35.We're Going to Need More Wine: Stories That Are Funny, Complicated, and True by Gabrielle Union* (DiF) (NF)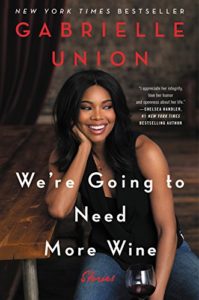 This is a memoir, of course, by an actress whose work I have unknowingly seen so everything in the book was new information to me. I really appreciated learning about her life and her experiences as an African-American woman growing up in different parts of the country and working in Hollywood.
The book has caused me to think a lot about the privilege I have due to my skin color. It is terrible how different our experiences are just from this one difference. I am evaluating my own prejudices and thinking in the hopes that I can be more aware and open.
36.A Wrinkle in Time by Madeleine L'Engle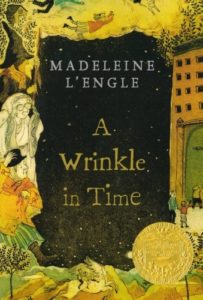 Meg Murry's father has been away from home for about five years after taking a top-secret job with the government. She and her younger brother Charles Wallace along with a boy named Calvin set off through the galaxy in search of Mr. Murry with the help of three unusual ladies.
I appreciated the overall theme that only love can defeat hate and evil. I thought I had read this as a child but I didn't remember anything about this story.
37.Present Over Perfect: Leaving Behind Frantic For a Simpler, More Soulful Way of Living by Shauna Niequist (NF) (Rec)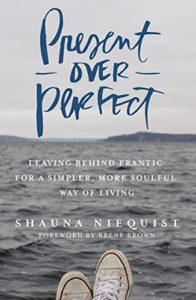 I really enjoyed this book. I have had it on my to-read list since it was published and finally decided in this current season of figuring out what the future might look like and how to use my time and talents well.
Shauna invites us to stop living in the fast lane of busyness and always saying yes and doing more to the point of exhaustion out of fear of disappointing others or passing up someone else's can't miss opportunity. She reminds us that we are loved regardless of our accomplishments (or failures) and are invited to rest in God's love for us and remember who we were created to be and what we were created for.
38.Class Mom by Laurie Gelman (Rec)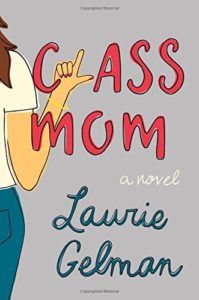 Jen Dixon has been talked into being the class mom for her youngest child's kindergarten class by her best friend and PTA president Nina. She decides to have fun with her class emails by being sarcastic in relaying class information which rubs some parents the wrong way. One parent tries to get her pushed out of this volunteer position which Jen would gladly give up if Nina would let her. Jen is forced to deal with demanding parents, a slightly odd teacher, and her high school crush whose daughter is in the class.
This was a very entertaining and engaging read. I was hooked from the beginning and had trouble putting it down to get other things done. I have a friend who has been class mom multiple times (I have not had that honor myself) and I thought it might give me a glimpse into that life. The book is first-person narrative with some emails from class parents.
*There's a decent amount of language and some questionable behavior so maybe skip this book if you don't care for those things.
39. Flood Watch by Christy Barritt (Fav)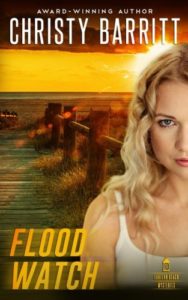 This is the second book in this series. Cassidy Livingston's friend Skye is upset about a produce stand competitor who then goes missing and police consider her a prime suspect. Cassidy and Ty team up to try to uncover the truth while also pretending to date while Ty's parents are in town. Meanwhile, Cassidy/Cady is concerned that she might have killed someone while undercover in the DH-7 gang after having been injected with a drug called Flakka.
What really happened to Skye's competition? Could she have actually been involved in something sordid? Will Cassidy and Ty's fake relationship turn real? Are people closer to uncovering Cassidy's real identity?
It was a very engaging read. I am a sucker for successful romances, though this early in the series I don't know how it will play out. There's always a twist or two in Christy Barritt's stories I don't see coming as the story unfolds. I am excited to see what happens next in Lantern Beach!
40.ThriftStyle: The Ultimate Bargain Shopper's Guide to Smart Fashion by Allison Engel, Reise Moore, and Margaret Engel
This is a really helpful book if you want to find quality items of clothing in thrift stores. It talks about what to look for to determine quality in clothing and the fun that can be found in thrift shopping.
I have enjoyed shopping in thrift stores and have found some of my favorite clothing items in them. This book gave me some things to consider while shopping.