I have several different reading goals this year. The overall goal is to read 52 books in 2018. The second goal is to read at least one book each month by a non-white author to expand my knowledge and perspective. A third, less pressing goal is to check off the 12 different categories of books Anne Bogel (aka ModernMrsDarcy) suggests to help vary the types of books read this year.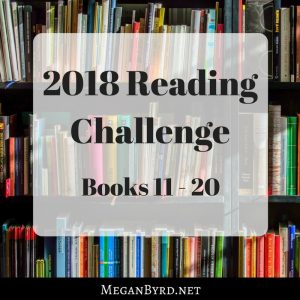 This is the second ten of the year. You can see my first ten here.
I read 2 books in February and 1 book thus far in March by non-white authors (indicated with a *). I read the following from Anne's list: 1) a book that's more than 500 pages (500), 2) a book by a favorite author (Fav), 3) a book by an author of a different race, ethnicity, or religion than your own (DiF), 4) a book recommended by someone with great taste (GT), 5) a memoir, biography, or book of creative nonfiction (NF), and 6) a book nominated for an award in 2018 (Awd).
In the first twenty books, I have checked off 8 of Anne's 12 categories. My remaining four: 1) a classic you've been meaning to read, 2) a book of poetry, a play, or an essay collection, 3) a recommendation by a librarian or indie bookseller, and 4) a banned book. Any recommendations to cover these categories (even better, to lend me one of these books) is appreciated.
February
11.The Book Thief by Markus Zusak (500) (DiF)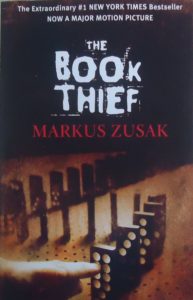 It took me a little bit to understand what the book was about and really get into it. I hadn't read a blurb so I assumed it was about someone who loves to read. I did not expect it to be set in Molching, Germany in the early 1940s and focus on tragedies of World War II. It follows a young girl whose younger brother dies on a train trip to live with a foster couple (the girl, Liesel eventually realizes her mom is not returning for her). Her foster father teaches her to read and she settles into life in her new home, eventually stealing a book from a pile of books burned on behalf of Hitler. It's a heartbreaking story, as one would assume, being set in Nazi Germany, all the more so being told from the perspective of Death and some of his experiences during the war and collecting souls.
12.Hidden Currents (Lantern Beach Mystery #1) by Christy Barritt (Fav)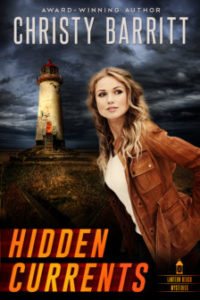 Cady has to go into hiding for several months as she awaits the trial for which she is the key witness. She is hiding out at Lantern Beach as Cassidy Livingston, the new ice cream truck lady. Her first day she comes across a dead body, is not confident the local authorities are up to the task, and launches her own secret investigation while trying to avoid her neighbor, a handsome but infuriating neighbor.
I was curious to find out who the murderer was and curious to find out where Cassidy's true identity would be discovered. I know this is a series so, although I'm sure little frustrated there's so much open-endedness with the trial and her neighbor, I'm confident I will receive more information in the next book. I'm definitely hooked enough to read on.
13.The Book of Forgiving: The Fourfold Path for Healing Ourselves and Our World by Desmond Tutu and Mpho Tutu* (DiF)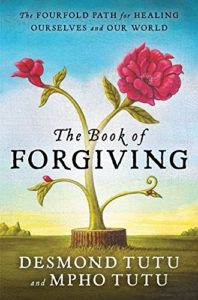 I really enjoyed this book. It reminds us that when we are hurt, there are two options: we can choose to walk the path of forgiveness or the path of revenge. We cannot do both. Choosing revenge leads to an endless and vicious cycle of more pain. The path of forgiveness isn't easy but leads to healing.
The book walks through the process (called the fourfold path) of complete forgiveness both for when you have been hurt and have caused hurt. I like that it also talks about forgiving yourself as that can be the hardest part of the whole process.
The book includes exercises to help process hurts and move toward forgiveness and healing. It is a very practical and helpful book that I would recommend everyone read to better understand what forgiveness means and how to truly find it and potentially restore damaged relationships.
14.How to Talk to Your Child About Sex: It's Best to Start Early, but It's Never Too Late by Linda and Richard Eyre
This was a very helpful book. I have been trying to figure out how and when to talk to our oldest about sex and what all to discuss. This book offered a lot of sound advice with logical explanations. It has given me confidence that I can do this well and that it will be beneficial both to my child and to our relationship with her as parents.
15.Eleanor Oliphant is Completely Fine by Gail Honeyman (GT) (Awd)
This book took me by surprise. I had heard positive reviews about it and since my maiden name is similar to the main character's, I decided to check it out. It sucked me in pretty early, reminding me of A Man Called Ove in the way it slowly gives the reader more insight into the person's life.
Eleanor works at a boring job and appears to be somewhat socially incompetent. As we get to know her better, we receive glimpses into her past and her relationship with he mother that helps us understand her and endear the reader to her. I thorougly enjoyed the book and would recommend it to anyone looking for an engaging fiction read.
16.The Summer That Made Us by Robyn Carr (Fav)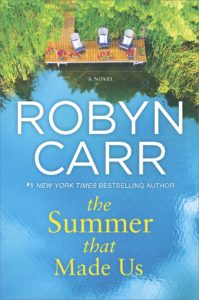 A family of sisters who married brothers used to spend every summer at the family lake house. It was a time of fun, a respite from everyday life and troubles. Until 1989 when the youngest child of the family drowned and the family was torn apart, shutting down the lake house and summer trips for 27 years. Until one of the daughters, who is dying of cancer, wants to go to the lake and try to bring the family back together.
It's an unraveling of the truth of everything that happened that summer and an attempt to right past wrongs. I enjoyed the characters and the telling of the story, many misunderstandings revealed. It wraps up neatly and predictably so if you like happyish endings, this book fits that description.
17.Little Fires Everywhere by Celeste Ng * (DiF) (GT)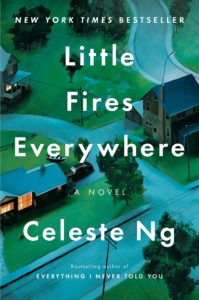 Elena Richardson feels that she is being benevolent when she rents her duplex to a single woman with a daughter. She seeks to help the mother by insisting she trade rent for light housekeeping and gladly takes the daughter, Pearl, under her wings at the Richardson house. Mia is a woman with secrets, and as she inadvertently causes a child custody battle involving one of Elena's childhood friends, Elena becomes intent on learning Mia's secrets.
I really enjoyed this book. I was hooked early on and halfway through I couldn't put it down. I love that the book invites us to see part of the perspective of many of the characters in the story, shifting from one to another for a more well-rounded account of certain events. It is interesting to see how stories entwine and the damage of mistaken assumptions or information.
18.Calvin and Hobbes by Bill Waterson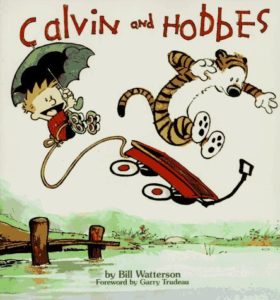 My son has a stuffed tiger he loves to sleep with (and has blond hair) so I thought he might be interested in another boy who loves his stuffed tiger. Jackson didn't get all of the humor (he's 5) but did laugh out loud at some things and seemed to enjoy the parts about monsters and snowball/water gun fights. I also enjoyed reading this classic as I grew up reading the comic and so it led to some nostalgic thoughts.
March
19.Emotionally Healthy Spirituality Day by Day: A 40-Day Journey with the Daily Office by Peter Scazzero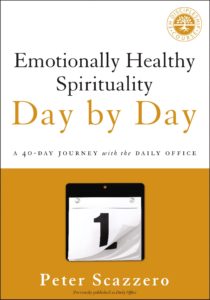 This is a 40-day daily office journey (twice a day devotional) broken into 8 weeks each discussing a different part of Emotionally Healthy Spirituality. I also watched corresponding videos each week. There is also a book that goes more in depth with each weekly topic which I read a year and a half ago.
The most challenging part of the book was the two minutes of silence, stillness, and centering at the beginning and end of each devotional. I have not trained myself for such work and it goes against my drive for productivity. Often it was a nice breather and a reminder that the world will continue even if I make time to rest and be still. The questions in the devotional were often very thought-provoking, causing me to consider why I do the things I do and how I could change my life to draw closer to God. I would recommend this book for those interested in growing and being challenged in their faith.
20.Long Walk to Freedom: The Autobiography of Nelson Mandela by Nelson Mandela* (NF) (500) (DiF)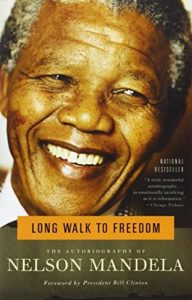 I learned a lot in this book. Having been ten when South Africa had its first democratic election, I was not versed in the history of the country, the ANC, apartheid, or Nelson Mandela.
It was very interesting to read about Mandela's life and what life was like during apartheid and while in prison. It makes me curious to find out what has happened in the time after the book's end. I know a little bit but plan to research South Africa's history since 1993.
Have you read any of these? Do you have any recommendations for me?