I have several different reading goals this year. The overall goal is to read 100 books in 2018. I created an Instagram account to help me track my reading. Feel free to follow along @meganbyrdreads! The second goal is to read at least one book each month by a non-white author to expand my knowledge and perspective. A third, less pressing goal is to check off the 12 different categories of books Anne Bogel (aka ModernMrsDarcy) suggests to help vary the types of books read this year.
This is the seventh update for the year. Here are the lists of books 1-10, 11-20, 21-30, 31-40, 41-50, and 51-60.
I read 3 books in June by non-white authors (indicated with a *). I read the following from Anne's list: 1) a memoir, biography, or book of creative nonfiction (NF), 2) a book by an author of a different race, ethnicity, or religion than your own (DiF), 3) a book you can read in a day (1D), and 4) a book by a favorite author (Fav).
June pt.2
61. An American Marriage by Tayari Jones* (NF) (DiF)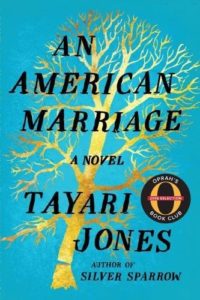 Celestial and Roy have been married a year and a half and live in Atlanta. They are visiting his family in Eloe, LA when Roy is accused and convicted of a crime he didn't commit. He is sentenced to twelve years. Celestial's uncle is his lawyer and fights to get the conviction overturned. He is successful and Roy is released after five years in prison. Has too much time passed and have too many things happened for Roy and Celestial to be able to reconcile and rebuild their marriage?
I enjoyed that the story was told from multiple points of view and included letters back and forth while Roy was incarcerated. I wasn't ever sure what I wanted to happen but the story ended satisfactorily. I appreciated getting to see both partner's points of view and understand their reasoning and motivation a little more. They were both admittedly flawed people, like the rest of us.
62. Women & Power: A Manifesto by Mary Beard (1D)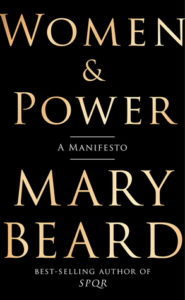 This book was based in two lectures Mary Beard gave on the public voice of women and women in power. The first chapter talked about women depicted in Western writings historically and their silencing of women's voices. The second talked about the prejudice against women in power or seeking power, how they are more personally attacked as people or mistakes they make than men.
It was an interesting and informative book. It has me thinking about how the news portrays women and what I might be able to do to help change the culture of power.
63. Fierce Marriage: Radically Pursuing Each Other in Light of Christ's Relentless Love by Ryan and Selena Frederick (NF)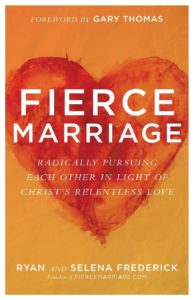 In this book, Ryan and Selena talk about what a Christ-centered marriage looks like and how to make your marriage more Christ-focused. After chapters focusing on God's intention for marriage and how we reflect Christ and his love, they dive into specific topics that often affect marriages such as communication, sex, and conflict.
I found it to be an interesting read. I appreciated the connection between information and action steps. I found the chapter on conflict and fighting fair personally helpful because it's an area where I struggle. A helpful book for Christian couples.
64. The Unfortunate Decisions of Dahlia Moss by Max Wirestone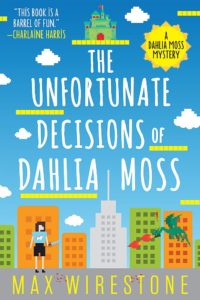 Dahlia Moss has been unemployed for over a year and her last relationship ended when her boyfriend dumped her for the woman he had been cheating with. At a party hosted by her roommate Charise, Jonah Long offers her $2,000 to help him recapture a spear that had been stolen from him in an online game. She readily agrees but is dragged into a deeper mystery when, the next day, Jonah is found murdered in his apartment by a replica of the online weapon. Did one of his game guildmates do it? Is it the same person who stole the digital spear? Can Dahlia figure it all out?
It was a fun story with regular clues and revelations that made for enjoyment and entertainment. The copy I had was an unedited version so I hope the writing was cleaned up for the final version. Some of the errors were distracting.
65. Christmas Cravings by Emma Hamilton
Mia is visiting the Christmas markets in Germany with her friend Lizzie while trying to figure out what happened between herself and Tom that he stopped talking to her. Lizzie and her boyfriend Matt manage to get Mia and Tom face-to-face so they can figure out the truth.
This appears to be a continuation of a story I haven't read. I am sure if someone had read the previous, related books they would get more out of this one. It was an ARC off of NetGalley so there were some writing/grammatical errors that were hopefully fixed in editing.
I wasn't really drawn into the story, partly from not knowing the characters, partly the UK language I am not familiar with. I wouldn't recommend it.
66. The Very Worst Missionary: A Memoir or Whatever by Jamie Wright (1D) (NF)
Jamie talks about growing up mostly outside of the church and her journey to knowing Jesus and, eventually, deciding to become a full-time missionary with her husband and children. She speaks candidly about her experience – the good and the bad. She points out the weaknesses and negatives of the current system that sends (often unqualified) people wherever they want to go in the name of Jesus and how that can cause more harm than good.
I wasn't sure what to expect as I have not read Jamie's blog but I heard good things about it and wasn't disappointed. I appreciated the reminder that I have a responsibility to be a good steward of all that I have and should not be afraid to speak up for injustice and inappropriate practices and ask questions when I don't understand. It was an encouraging and informative book. I read it in a little over two hours on a plane as it was also very engaging.
67. My Lady's Choosing: An Interactive Romance Novel by Kitty Curran & Larissa Zageris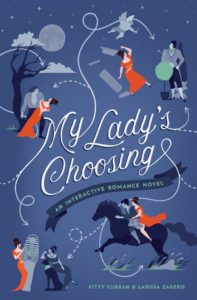 I loved "choose your own adventure" books as a kid and was excited to see they made one for adults. I read eight different storylines to various conclusions. There was quite a variety of adventures to be had.
You start out as an older woman's companion in London in the 18th century, poor and without options, until you meet Lady Evangeline and a few intriguing gentlemen at a ball. You decide where to go from there and how much "romance" you wish to experience. I found it humorous and engaging. I had to map out my choices in case I didn't like where I ended up (just like when I was a kid).
68. Deadly Undertow by Christy Barritt (Fav) (1D)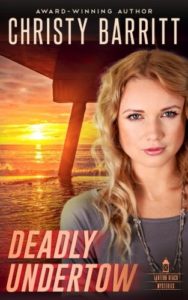 Cassidy hasn't heard from her police contact Samuel and isn't sure what happened. Her ex-boyfriend Ryan shows up unexpectedly and tells her she needs to come with him to a new hiding place until the trial. Someone else is also on the island trying to find her Cassidy isn't sure what's going on or who to trust. Can she protect those she cares about and stay alive long enough to testify? A thrilling conclusion to the Lantern Beach series!
I read it in about three hours in order to discover how it ended. I found it to be a very satisfying conclusion. A great series I highly recommend!
69. Really Bad Girls of the Bible: More Lessons from Less-Than-Perfect Women by Liz Curtis Higgs
The stories of eight women of the Bible are shared along with what we can learn from their story. Liz contemporizes the stories so we can understand their potential motives, situations, and thought processes. The end of each chapter includes specific lessons from the story and discussion questions. There is also a group study guide at the end of the book.
I really enjoyed the way Liz retold the stories in modern times. It helped me to see how I might be like the women in the Bible. I appreciate the opportunity to study various women at a deeper level. It provided encouragement and conviction. I know she has some fiction books she's written. I'm interested to check out those as I enjoyed the way she tells a story – she really draws you in!
70. China Rich Girlfriend by Kevin Kwan * (DiF)
Nick and Rachel are getting married. The night before their wedding, the rehearsal is crashed by Nick's mom who comes to tell Rachel that she found her father. Her father invites Rachel and Nick to China for the summer so they can get to know her father and his side of the family, but when they arrive craziness ensues.
It was fun to dive into the lives of extremely wealthy families in Asia and be taken on a ride to see how the 1%ers live. I enjoyed seeing what had happened with various characters since the previous book ended. I am looking forward to reading the third book in this series! A fun and interesting read.
Have any new recommendations of good books you've read recently?