Megan Byrd is a woman of many titles: SAHM, wife, pet owner, travel enthusiast, baker of tasty treats, yoga practicer, book devourer, pursuer of athletic endeavors, writer of thoughts, casual gardener, and speaker of okay Spanish to name a few.
Megan Byrd has been a writer for most of her life. She has kept a journal in various forms since first grade. In elementary school, she wrote short fiction tales for school and completed three short illustrated children's books (never published). She began writing poetry in middle school and had one poem published in high school. In college, she began experimenting with blogging and has continued to enjoy that format of writing. She has published one book and hopes to write more.
She was born in Oregon but has moved several times and currently resides in Asheville, North Carolina with her husband of fourteen years, her two children, and Maui the cat.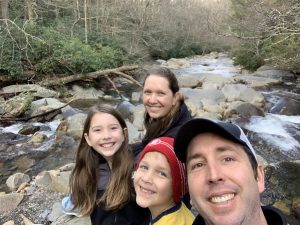 Megan has been interested in encouraging and helping other people, especially women, for many years. In college, she helped start and lead a women's ministry within her campus Christian organization. She was a Junior Counselor on three summer mission trips with her high school church. She also participated in two international mission trips during college.
Megan was a Resident Counselor at a group home for teenage girls after completing her bachelor's degree in Psychology from North Carolina State University. After moving to Georgia, she worked as a Parent Counselor at a Child Care Resource and Referral Agency where she educated parents on evaluating child care programs for quality and helped them locate available care near them. She has also facilitated women's Bible and book studies. She participated in a coaching program through her church where she met regularly with several women to encourage them in their lives and faith.